Celebrating China's new open up policy
China is mapping a unique path of historical evolution. It disavowed the Soviet model of socialism and is now exploring its own original road to modernization and socialism.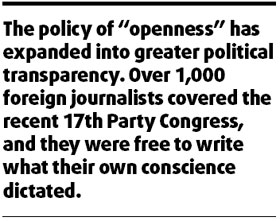 In 1978 Deng Xiaoping launched China on an original path to socialism with "Chinese characteristics". Deng's new policies included both economic and cultural aspects, but both represented a new "openness". On the economic side free markets were encouraged at the lower levels of the Chinese economy, while in the cultural domain China became a more engaged partner in the international exchange of ideas.
Deng's innovations were a repudiation of the Soviet archetype. While the Soviet Kremlin controlled every mechanism of the Russian economy, Deng's creativity saw the advantages of utilizing free markets to speed the modernization of the Chinese economy.
This modernization process also entailed expanding the intellectual discourse between China and the US and the European Union (EU). But this modernization process did not mean Westernization. The increase in the Chinese intellectual dialogue with the West did not suppose that China would be Westernized in terms of the capitalist West. Rather, China would expand its cultural communication with the West as a means of encouraging socialism with "Chinese characteristics".
My second visit to China occurred in October 2007, during the 17th National Congress of the Communist Party of China. I am a professor of history and was invited to lecture at the Peking University. My first visit to China took place in 1999 and at that time I was the only Westerner at the university hotel.
In terms of China's success in becoming a link in the global communication of ideas, the difference between 1999 and 2007 was galaxies apart.In 1999 not one professor was receptive to an invitation to come to America to lecture, participate in a conference or engage in a collaborative publishing venture.In 1999 not one student questioned me about the possibilities of graduate study in America.
Eight years later nearly every faculty member I talked to asked about coming to the US to lecture, or co-authoring books.
PhD students besieged me with requests for help in gaining admittance to American or EU universities.
An additional expression of this heightened transparency in China was an invitation I received to visit the National School of Administration. This offer was made by Professor Fan Wen. The National School of Administration is a graduate institute and is the elite training center for officials who have been selected to advance to the echelons of both provincial and central government administrative posts.
After a tour of several buildings, a splendid lunch and a visit to the library containing a bust of Confucius, Fan showed me some of the classrooms. In one of them a lecture on comparative law, encompassing all regions of the world, was in process. A legal scholar, taking an international perspective, informed the students about how the doctrine of individual rights was interpreted in various societies. Furthermore, in later sessions of this course these future Chinese administrators were taught Western legal philosophy, constitutional checks and balances and courtroom judicial procedures as they were practiced in the US and the EU.
"The policy of 'openness' has expanded into greater political transparency," Fan said. "Over 1,000 foreign journalists covered the recent 17th Party Congress, and they were free to write what their own conscience dictated."
"In addition, transparency is now the accepted practice in inter-Party deliberations. During the Party congress the heads of government departments were required to report to an enlarged Central Committee of the party and this created the possibility of disagreement, discussion and consensus."
The impressions I received at the National School of Administration were reaffirmed in my conversations with Professor Yang Jinhai, the deputy secretary-general of the Compilation and Translation Bureau of the Central Committee of the Communist Party.
The bureau's work includes three tasks. First of all, researchers will translate the texts of Karl Marx that had been in Moscow and never published. So many of Marx's original manuscripts were never made available to Chinese scholars. Second, Chinese academicians who study Marxist thought will open themselves to the ideas of Western specialists. Third, all the textbooks are to be rewritten in 10 years. The bureau will rewrite 150 textbooks, liberating them from the theory of the former Soviet Union.
"The former ideological monopoly of the Soviet Union is abolished, and China, independently, will rediscover the original meaning of Marx," Yang said.
"China is creating its own model of socialism," Yang said. "In order to have a form of Marxist theory that corresponds to our socio-economic model of socialism we must be open, start a dialogue with Western thought." Yang then turned to me and said: "We are familiar with your own work in political theory and that is why you received your invitation to lecture. I have read your recent book, and I request that you formally submit your work to my bureau and let us decide if we will translate it."
I was shocked at Yang's suggestion because the book he referred to puts forth a challenge to Marxist theory. Entitled Divergent Paths, my work maintains that significant disagreements separated Marx from Friedrich Engels, not a thesis that conforms to official Marxist textbooks in China, and yet the book in now under consideration for translation.
The globalization of contemporary Chinese culture was underwritten by the hotel in which I resided. On this second visit I engaged in conversation with other visiting professors from the US, Canada, Australia and the EU. China is now in the circuit of the international transmission of ideas. In the 21st Century it remains to be seen how China's new open door policy, this time voluntary, will shape the future of a country seeking its own identity.
Now that China has jettisoned the Soviet model it has gained the freedom to invent its own transition to socialism. China has established an example to be copied by third world countries that wish to best navigate the passage to socialism.
The author is an American scholar of Marxism
(China Daily 01/23/2008 page9)