New measures are to be introduced to prevent the civil aviation industry from developing too quickly and ensure the country maintains its good safety record, an official has said.
According to official figures, there have been no major aviation accidents in China for 37 months, or 9.93 million flight hours, a record for the industry.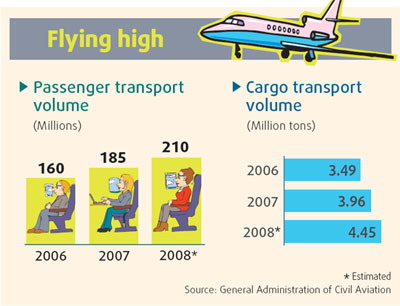 Li Jiaxiang, the newly appointed acting minister of the General Administration of Civil Aviation of China (CAAC), told a working conference Thursday that the measures will ensure the stable development of the industry.
They will include controls on the number of aircraft purchases that can be made by airlines, and the introduction of tighter restrictions on new airlines entering the market.
Figures released Thursday by the CAAC showed the industry developed rapidly last year, with both passenger and cargo numbers recording double-digit growth.
Some 185 million people flew last year, 16 percent more than in 2006, and 3.96 million tons of cargo was transported, up 13 percent, year on year.
Ten of the country's airports last year handled more than 10 million passengers, compared with just seven airports a year earlier.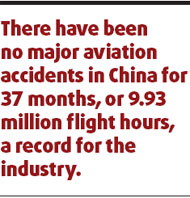 The CAAC has forecast airports this year will handle 210 million passengers, up almost 14 percent year on year, and 4.45 million tons of cargo, up 12 percent.
The authorities, however, fear that if the industry develops too quickly, flight safety could be jeopardized.
Industry insiders have added to the fears, saying that most small-scale private airlines lack pilots, so the ones they do have are forced to work a lot of overtime, which creates a safety risk.
These airlines will be specifically targeted by the new measures, Li said.
Airlines that cannot supply the required number of cockpit crew to fly its planes will not be allowed to import new aircraft or open new routes, he said.
A rule was introduced last year to suspend applications for new airlines until 2010, Li said. The administration will approve less than three airlines a year from the applications received before the rule was announced.
The administration will also impose stricter requirements on new airline applications, and closely scrutinize investors, plane ownership and pilot quality, he said.
Li, the former general manager of China National Aviation Holding Co, encouraged domestic airlines to open more long-distance international flights to Europe and North America, to "raise their percentage of share in the international market".
He said domestic airlines were losing market share on international routes, especially in the cargo transport market.
In 2000, carriers had a 44-percent share of the international cargo market, but the figure has dropped to 18 percent.
"There is a danger that cargo airlines will be marginalized in this area," he said.
With the arrival of the new Boeing 787 and Airbus 380, now is the time for airlines to open more international flights and increase their market share, Li said.