Liu Youlan dresses like a matchmaker, but is equipped like a quack.
The 68-year-old wears a green leather jacket on top of striped skirt, and bright ornaments adorn her curled hair, dyed pitch black. Next to a tree, she puts down a shiny black sheet, on which there is an equally shiny black plastic bag. She takes out two notebooks and two folders.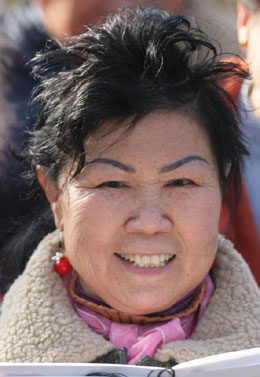 Liu Youlan 
On the notebooks and folders are scribbled "For Men" and "For Women".
That is everything Liu has for her one-woman matchmaking operation. People come and leave their names, phone numbers and their requirements for a spouse. For many, this is their last ray of hope.
Sunday morning in the Temple of Heaven is a joyous place for the elderly. Along the corridor, there are at least a dozen groups - and a few individuals - offering all kinds of performances: singing, dancing, tai chi These are more for self-amusement than for show-off.
Liu's "booth" is slightly off the beaten track, next to the Seven Star Rocks.
Liu specializes in bringing together senior citizens who are widowed. "I started it out of compassion. You can't imagine what kind of hurdles we old people have to go through to find a candidate for a spouse," says the married woman.
A professional matchmaking service, according to dozens of senior citizens interviewed for this story, tends to engage in cheating rather than offering the touted service. It charges an initial service fee ranging from 1,000 to 3,000 yuan ($136-410). For each date it passes on, it costs an extra 300 yuan ($41) or so.
Li Shurong, a 64-year-old widow from Henan Province, was swindled out of thousands of yuan by one such agency. Once she paid up, she was essentially kicked out.
"You don't even have a Beijing permit and you want to marry a Beijing man with his own apartment? Dream on!" she was scolded. Earlier, they promised her the ideal candidate was sitting right in the office and all she needed to do was to give them her credit card number.
Heartbroken, Li stumbled upon Liu. "Liu doesn't charge any fee. She has a good heart."
Actually, Liu has recently started charging 10 yuan for each registrant, "just to cover phone calls". She is not looking to recoup all her costs, she says, as she has to spend two hours early Sunday morning and change two buses to get to the park from her suburban home in Fangshan District.
"But I check each one's ID. I cannot promise everything is real, but I do want to screen out certain types," she says.
One type she doesn't want to serve is men who pretend to be much younger than they actually are. "You don't know how shameless some can be. One 70-year-old says he is 40."
The bigger problem is, many men want mates 10-20 years younger. And it's not hard for them if they don't insist on a Beijing residence permit. That leaves Beijing women in a dilemma. In fact, three quarters of those who seek Liu's help are women.
"I don't really offer opportunities for romance," explains Liu. "When old people date, it's for companionship. You have to be honest and realistic. Our society is changing. Old people no longer live with their children. When an empty-nester becomes widowed, it's emotionally beneficial for him or her to form a new family."
Many of the senior citizens attribute their inability or unwillingness to live with their grownup children to the generation gap.
"My clients tend to have sons and daughters who are doing very well in Beijing, some with 200-sq-m units, but they feel lonely. Busybody that I am, I want to make their lives a little easier," says Liu, who started her "business" a couple of months ago.
She would not reveal her success rate, saying it isn't high - but the real reason for her efforts seems to be to offer hope.