Eight people, including a nine-year-old child, were found brutally killed early Thursday morning at a village lime plant in Hong'an County, central China's Hubei Province.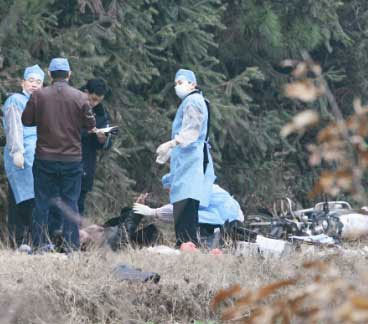 Police and forensic personnel examine a dead body near a lime plant where eight people were found killed in Hong'an County, central China's Hubei Province on Thursday, December 27, 2007. [Changjiang Times]
The Wuhan Morning Post reports that a worker surnamed Wang chose to sleep at home on Wednesday night and narrowly escaped the killing. He reported the case to police immediately when he arrived for work the next morning at the plant in Shangxinji Township of Huanggang City.
Besides the boss of the factory Wang Shishu and his wife, the other dead are all hired hands staying at the plant, including a couple who are distant relatives of Wang's and their son, as well as three locals.
An investigation team led by the provincial public security department has been formed. The police have offered 50,000 yuan for anyone who catches the killer or provides important clues. A large area around the plant has been cordoned off.
Local media reports Wang's wife was found lying in cold blood at the gate of the lime kiln and Wang was later found dead near the kiln. Both had knife stabs at the necks. The other six were all butchered inside a dormitory.
The Changjiang Times quotes a village official as saying Wang just had 15,000 yuan stolen at his home barely a month and a half ago.