The authorities are promoting the use of satellites for remote sensing, navigation and communications to provide better public services and meet the requirements of economic development.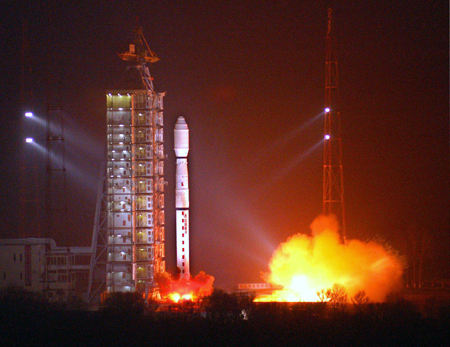 A new remote sensing satellite "Yaogan III" is launched on a Long March-4C carrier rocket from the Taiyuan Satellite Launch Center in North China's Shanxi Province November 12, 2007. [Xinhua]
Proposals for the civilian use of satellite technology, jointly issued by the Commission of Science, Technology and Industry for National Defense and the National Development and Reform Commission, were unveiled Sunday.
The proposals outline the development guidelines, major goals and policy and regulatory guarantees necessary for expanding the use of satellite technology.
Vice-Premier Zeng Peiyan said the country's use of satellite technology had shifted to the commercial stage after more than 50 years of development.
"The need for satellites has been boosted by the economy, social progress and the necessity of safeguarding public security," Sun Laiyan, vice-minister of the Commission of Science, Technology and Industry for National Defense, said.
The blueprint issued Sunday aims to have 10 satellite-based service systems in place by 2020. They will cover communications, navigation, the oceans, meteorology, the environment, disaster relief, water conservancy, national land resources, agriculture, forestry and distance education.
The country's satellite-based remote sensing and navigation systems have passed a key turning point, while the development of satellite communications are on track to becoming commercially viable, Sun said.
Zhang Xiaoqiang, vice-minister of the National Development and Reform Commission, said the aerospace and satellite sectors are considered strategic high-tech industries.
"They will make the nation more innovative and improve the industrial structure," Zhang said.
The new materials industry is one area that has benefited from advances in the aerospace industry.
"A tiny step in the aerospace arena means a big stride back on earth," Long Lehao, an expert on the Long March series rockets, said in a recent interview.
He said the country's independent research and development of the Long March carrier rockets had brought the heavens closer and unlocked new technologies that could improve life on earth.
Some 80 percent of the 1,000 varieties of new materials developed in recent years benefited from the space industry.