The Chinese mainland has returned all the letters and parcels postmarked so-called "Taiwan's entry into the United Nations" to Taiwan as long as they were discovered, said mainland spokeswoman.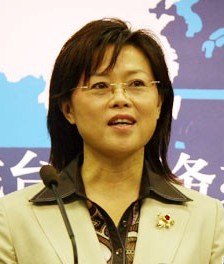 Fan Liqing, spokeswoman of the Taiwan Affairs Office of China's State Council, answers questions during a press conference in Beijing, November 14, 2007. [China.org.cn] 
Recently, the Taiwan authority has instigated the Taiwan's post company to stamp postmark of "Taiwans' entry into the UN" on letters and parcels to preach "Taiwan independence".
"Taiwan authority preaching 'Taiwan independence' through post services has infringed on Taiwan compatriots' freedom of communication," said mainland spokeswoman Fan Liqing in Beijing on Wednesday.
"This has seriously impaired the exchanges of letters between people on the two sides of the Taiwan Strait as well as Taiwan people's exchanges with other parts of the world," she said.
The mainland has discovered letters with such postmarks and returned them to Taiwan and the Taiwan authority must shoulder its due consequences, she said.