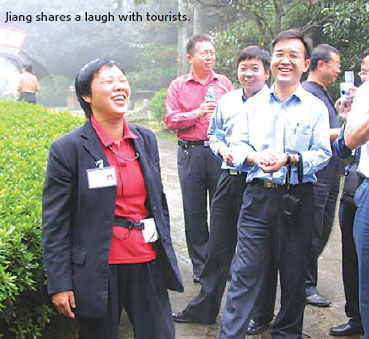 Jiang Manfeng, a cleaner at the popular Dragon Pond tourist site in the city of Jinggang Mountains, is more than just a park worker. With her enchanting folk songs she is an attraction in her own right.
While she looks just like any other ordinary 37-year-old, when Jiang gets an audience and starts to sing, she is transformed into a radiant, seasoned performer who knows her true place in the world.
What's more, all the songs she sings were written by her stepgrandfather, a revolutionary martyr, who died in the late 1920s.
Jiang sings a cappella. The megaphone she has tied around her waist is used only to warn people against smoking in the brushfire-prone nature reserve.
Nevertheless, the crowds are always moved by her vocals and erupt with wild applause when she finishes.
"I never charge for my performances; I don't even accept tips," she said.
"One reason is because I am the descendant of a revolutionary martyr, another is that I don't want tourists to think people from Jinggang Mountains are greedy."
Jiang grew up listening to folk songs, but she was not allowed to sing them because they were mostly love ballads and considered unsuitable for children.
Instead she studied in private. Blessed with a good memory, she only needed to hear a piece of music once before she was able to memorize it.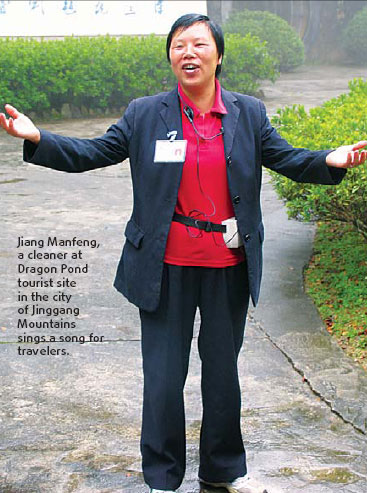 Once, Jiang and her younger brother sneaked to their father's bedroom to find something to eat.
At the bottom of a cabinet they found a book with about 100 rough pages with handwriting on them.
Initially, Jiang did not know what the book was and admitted to even using the pages as toilet paper until she went to a school and learned to read.
"I was so shocked to realize it was a songbook written by my stepgrandfather. But by then there were only about 30 pages left," Jiang said.
Jiang copied the remaining pages into a new book and later combined her grandfather's lyrics with the tunes she had already learnt.
Jiang began to regularly sing her songs in 1990 when she was married.
"When I got depressed in the dark days of poverty, I would always sing rather than cry, as it made me feel better," she said.
Jiang and her husband were so poor they lived in an old house, which was covered in bark instead of tiles and had no electricity.
Their situation started to change in 1995, however, when construction of the Dragon Pond scenic area began close to their home.
The couple found jobs there: Her husband supervised the construction of the new parking lot, while Jiang sold food and drinks to the builders.
In 1997, she got a job as a cleaner at the site, responsible for sweeping the roads.
She said the light work allowed her time to enjoy the stunning scenery and put her in the mood for singing.
"At first I would sing only in secluded places. But then one day, some tourists heard me and encouraged me to continue. With the support of the local guides, I gradually built my confidence to perform in public," she said.
To her delight, in June she was invited to Beijing to record a theme song for the TV series "Jinggang Mountains", which was broadcast recently on CCTV.
With her newfound fame, and fortune, Jiang was able to build a two-story home covering 300 sq m, the ground floor of which she lets out to another family who run it as a restaurant. She said she even plans to buy a car.
But the mother of two has no plans to become a professional singer.
"I am happy with the way things are at present," she said.
However, she does harbor one rather large ambition.
"I wish my songs could be heard all around the world."
(China Daily 10/23/2007 page8)