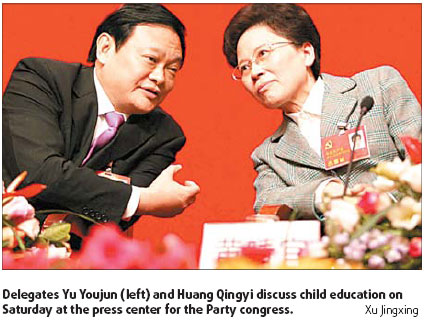 The recent punishment meted out to negligent Party officials convicted of child labor crimes was the most severe in Shanxi Province's history, the province's former governor Yu Youjun said on the sidelines of the 17th National Congress of the Communist Party of China on Saturday.
About 95 Party officials were punished after more than 1,000 people, including children and mentally handicapped people, were rescued from brick kilns in North China's Shanxi Province this summer.
"The number of officials being punished and the degree of the punishments is unparalleled in the history of Shanxi Province," said Yu, the former Shanxi governor and now vice-minister of culture.
"The provincial Party committee and the government have heavily punished those officials who failed to do their job, according to the Chinese law and the discipline of the Party," Yu told a press conference.
Yu said the Shanxi government and police authorities carried out a crackdown on illegal brick factories between April and May this year, a month before media coverage of the slave laborers appeared.
A total of 40,000 police and 300,000 local officials took part in the campaign by searching and investigating more than 8,000 places including workshops, small mines and brick factories.
About 10 brick factories were found to be illegally using children, including those with mental disabilities, for labor.
Yu said proper arrangements have been made for the rescued children, most of whom have been brought home to their parents and relatives, with transportation expenses paid for by the government. Some mentally handicapped children whose parents were not reachable have been adopted.
About eight of the 95 officials were expelled from the Party and lost their jobs, 30 were dismissed from their posts and more than 20 officials were demoted. The head of the department of labor and security of Shanxi provincial government also was required to make a self-criticism at an official conference, as did the mayors of Linfen and Yuncheng.
When asked why the low-level officials were given such punishments, Yu explained, "We should make a punishment for the people who really did this. Officials at county and township levels are mainly responsible for the management of brick kilns and small mines, therefore we focused on them."
Life and even death sentences were given to five kiln owners, managers and guards.
China has 367 million children under the age of 18, many of whom are undereducated and live in underdeveloped regions.
(China Daily 10/22/2007 page5)