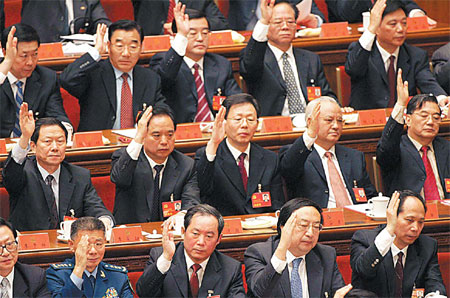 Delegates raise their hands to cast votes for a resolution on the Central Commission for Discipline Inspection's work report yesterday. Xu Jingxing
China's political reform should focus on the development of grassroots democracy. It should first be tried at the grassroots level and then pushed upward, an influential Party scholar has said.
Yu Keping, deputy director of the Compilation and Translation Bureau of the CPC Central Committee, told China Daily that the essence of democratic politics is participation of the citizenry.
He said democracy is a series of institutions and procedures that seek to guarantee freedom, equality and other rights of citizens.
He said a key point of political reform was increasing people's political interests as much as possible without reducing the interests people already have.
Political reform in China will focus on adjusting the allocation of benefits and reducing the benefits gap among different social groups. Based on the principles of justice and equality, reform should help the poor, disabled, or marginalized groups.
"All political reforms should be oriented toward increasing, instead of decreasing, the existing political interests of the citizenry," Yu said.
Yu said democratic policies would be developed through intra-Party democracy in China. Democratization, meanwhile, will develop from the grassroots.
The Communist Party of China will remain at the center of political power in contemporary China. With more than 70 million party members, the CPC comprises the vast majority of social and political elites in China, Yu said.
"As such, if it was not for intra-Party democracy, democracy in China would be nothing more than an empty slogan," he said.
As democratization reforms deepen, China's political elections will be even more competitive. This is largely decided by a deeper understanding of democracy and rule of law among Party members as well as ordinary citizens.
"China has announced it will establish its socialist legal system with Chinese characteristics by 2010, which is a vital component of China's political machine," Yu said.
He said to construct a socialist democratic system, the first step was to institute rule of law. China had made rapid progress in this respect, particularly since opening up in 1978.
"In this respect, the implementation of rule of law could be regarded as an integral part of democracy in China."
Yu said Chinese people had increasing freedom in political elections.
"Universal values serve to bolster China's political reforms," he said, adding that these values included freedom, justice, democracy, equality and human rights.
Many new political ideas and innovations popular in China originated in the experiences of foreign political systems. However, these ideas have been adapted to fit political conditions in China, Yu said.
(China Daily 10/22/2007 page5)