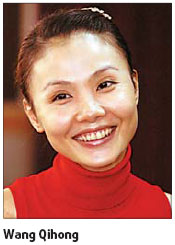 Former gymnastic champion Wang Qihong lost her right leg more than 14 years ago as a result of bone cancer, but she has never lost her enthusiasm for sport. In fact, she became even more passionate about artistic gymnastics.
Tall and slim, Wang, a delegate from Guangdong Province to the ongoing 17th National Congress of the Communist Party of China, won the artistic gymnastics championship in 1993 at the Sixth National Games.
Now as a coach, the 31-year-old has trained at least 20 athletes at the Shenzhen Athletics Team over the past 12 years.
Once she asked her athletes how they felt about having a disabled coach. "I heard the warmest words in my life," she recalled.
"They said they were so proud of having me as their coach."
She started her career as an artistic gymnast at the age of eight in Shenzhen, Guangdong Province.
The training was so hard that she often had to pretend to suffer from stomachache to stay away. But Wang said she got a good tutor, who encouraged and inspired her to keep going instead of just simply criticizing her.
In 1993, she was rushed to a hospital because of serious knee injuries, and later diagnosed as suffering from bone cancer.
Wang received an amputation in July that year.
"I have never shed tears for my misfortune, because crying cannot solve any problems," Wang said.
"Moreover, I didn't want to give my parents more pressure. I don't have any choice but to be strong," she added.
She had an artificial limb fitted six months after the operation.
At first, she thought naively she would be able to walk normally, but she was disappointed.
"It took long time for me to accept the fact that I was no longer a normal person. I had to face that harsh reality and deal with it," she said.
In October 1995, she was invited to coach young athletes at her artistic gymnastics team.
She instructs by showing the athletes' videos on TV or computers.
Her team won the group championship at the Ninth National Games in 2001.
"I was comforted as they eventually made it. Actually they have helped me realize my dreams," she said.
Wang has now sets her sights on the 2012 London Olympic Games. Her athletes are too young for the next year's Beijing Games, she explained.
(China Daily 10/20/2007 page1)