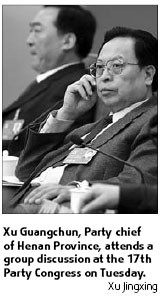 The country's most populous province is toiling hard to beef up development in its vast rural areas, said a top Henan official.
With 70 percent of its more than 100 million people living in the countryside, Xu Guangchun, Party secretary of the central province, said his colleagues and he face a huge challenge in achieving an overall "moderately prosperous society".
"The 100 million people of Henan will never enter a moderately prosperous society unless our 70 million farmers enter it first," Xu told a panel discussion session at the ongoing 17th Party congress on Wednesday.
"We are clearly aware of both the importance of this task, and how challenging it is," he said.
In his report to the congress on Monday, Party General Secretary Hu Jintao pledged that the country will continue to push forward the "new socialist countryside", meaning an overall improvement of the rural economy and life in the countryside.
The pledge reflects the need to balance urban and rural development, as concerns grow about the yawning wealth gap.
Hu also outlined a series of planned moves like preferential policies for farmers and increasing agricultural input from central coffers to raise rural incomes.
Xu said that one important task would be ensuring more farmers hear about the policies and new agricultural information available to help them.
He stressed that the province will pay special attention to lifting the poorest few villages of its nearly 50,000 villages out of poverty.
The agriculture-based central province last year notched up more than 1 trillion yuan ($129 billion) in GDP, ranking fifth in the country.
China Daily
(China Daily 10/19/2007 page6)