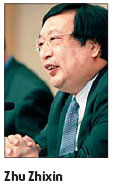 Consumer prices jumped 6.2 percent in September on the back of higher food costs and, in response, the government will consider a tighter monetary policy and investment curbs, a senior official said yesterday.
Zhu Zhixin, deputy head of the National Development and Reform Commission, the top economic planer, made the remark at a news conference on the sidelines of the 17th National Congress of the Communist Party of China.
September's inflation was down slightly from 6.5 percent in August, the highest monthly rate in 11 years. The inflation spike has been blamed on double-digit rises in food prices, especially pork.
"Lowering prices will be an important task for economic regulation," Zhu said.
"These measures may include exercising a moderately austere monetary policy, restricting excessively fast investment in fixed assets and taking measures to adjust prices," he said.
Inflation in the first nine months was 4.1 percent, compared with 3.9 percent from January to August, Zhu said.
The central bank has stated that it expects inflation for the year to exceed the government's 3 percent target; and "inflation will remain high for a period of time," said Zhu.
He ruled out the possibility of sweeping price hikes in the future, but predicted the prices of farm produce, which triggered the CPI rise and sparked inflation concerns, would continue to be at a high level.
He forecast that grain prices would gradually stabilize as the summer harvest has increased by 1.45 billion kg over the previous year to hit 115.35 billion kg this year.
Soaring inflation has put the government in a dilemma over raising prices of oil products and utilities. "We should consider the timing and whether the public can accept a price rise," Zhu said while commenting on price reform plans for gasoline, water and electricity.
Prices of oil products are kept low by the government but crude oil, for which the country is mainly dependent on imports, has been soaring in the international market.
Zhu also said that China's economy steamed ahead in the third quarter.
Agencies contributed to the story
(China Daily 10/19/2007 page1)