Dressed in a branded suit with high heels to boot and driving a Rolls Royce, Chen Ailian appears to be the archetypical success story.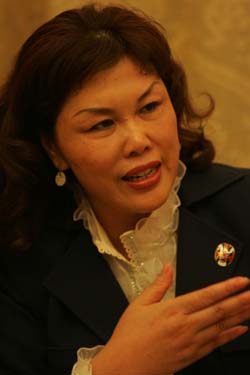 Chen Ailian [newsphoto] 
She is that, and an ardent member of the Communist Party of China (CPC), too.
And she sees no contradiction.
The 49-year-old, who leads a sprawling business empire, has drawn much attention at the ongoing 17th CPC National Congress as the sole representative of the private sector from Zhejiang Province, the cradle of the country's entrepreneurs.
Chen, who started as a truck driver, is chairwoman of Wanfeng Auto Holding Group - the largest manufacturer of aluminum alloy wheels in Asia and one of the top 50 auto parts suppliers in the country.
Her story best epitomizes the boom of the private economy and the rising political status of the private sector.
Chen began her career in the auto parts business in 1994 by borrowing half a million yuan ($66,600) and renting an abandoned factory with a dozen lathes.
Now, her business has expanded to the European, American and Japanese markets, with partnerships sealed with key carmakers such as Ford, Toyota, and GM.
Half of her company's sales are overseas.
The group, headquartered in Shaoxing - Chen's hometown - has branches in eight provinces and cities including Guangzhou, Shanghai and Shandong.
Chen joined the Party in 1995 a year after she started her business; and also set up a Party organization in her group in the late 1990s, a rare move for a private entrepreneur.
That has given her business a sharper edge as four in five in her management and technology teams are Party members.
When she was elected a delegate to the Party congress, Chen was not surprised.
"Like workers, farmers, intellectuals, cadres and soldiers, private entrepreneurs are also builders of socialism with Chinese characteristics," she said.
Private entrepreneurs used to be considered a symbol of capitalism and were long excluded from the Party. But now they are recognized for their contribution to the economy.
The 16th CPC National Congress made it clear fresh blood from the private sector would be included in the Party; and for the first time invited some delegates from private enterprises.
Chen said she does not see any conflict between driving a Rolls Royce and being a Party member.
"Don't stereotype a Party member, who can also be modern, fashionable and open-minded, "she said.
Chen, who has master's degrees in management, said proper management and innovation are key to the competitiveness of modern enterprises - her group has registered more than 100 technology patents this year.
The company notched up about 50 percent growth in sales each year during the past decade, and expects 15 to 30 percent annual growth in the coming years.
With 8.5 million cars produced last year, China has become the biggest car making market and third largest car consumption market in the world.