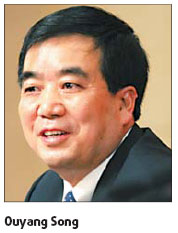 The Party will further increase transparency in the selection and promotion of cadres as part of its efforts to promote socialist democracy, a senior official with the Organization Department of the Central Committee of the Communist Party of China (CPC) said yesterday.
"We will actively explore a mechanism for cadre selection that ensures people's right to know, participate in, choose and supervise so that the selection reflects the wishes of common people," Ouyang Song, the department's deputy head, said at a news conference on the sidelines of the ongoing 17th CPC National Congress.
His department is mainly in charge of the Party's personnel affairs. The congress, scheduled to last until Sunday, is set to elect the Party's 17th Central Committee - that will decide the CPC's new leadership lineup for the coming five years - and a new Central Commission for Discipline Inspection.
The electoral procedures are still under discussion among about 2,200 delegates to the congress but candidates for the Central Committee membership or alternate membership would be more than the seats, he said.
Members of the CPC Central Committee Political Bureau will be elected by the new Central Committee.
Ouyang noted the CPC has adopted a series of effective measures in cadre selections, ranging from democratic recommendation and assessment to opinion polls, with a view to letting common people decide who should be elected.
CPC Central Committee General Secretary Hu Jintao, in his report to the congress on Monday, mentioned "democracy" at least 60 times while expounding on political restructuring.
Hu said that the CPC will "expand intra-Party democracy to develop people's democracy" by increasing transparency in Party affairs and "opposing and preventing arbitrary decision-making by an individual or a minority of people".
Ouyang said the CPC has steadily "advanced the reform of the intra-Party election system in the election of new leading bodies, improved the nomination method and expanded the scope and proportion of competitive elections."
The number of candidates was 15 percent more than the delegates to the 17th Party congress. At the national congress five years ago, the margin was 10 percent.
Even bolder steps have been taken in the election of grassroots CPC organizations with Party secretaries directly elected in more than 200 townships in Chongqing Municipality, Sichuan and Hubei provinces.
Ouyang said supervision over cadres has been strengthened - 9,378 officials were penalized between 2003 and 2006 for violating rules in recruitment, promotion and management of personnel.
He did not elaborate on the cases, which often involve corruption or under-the-table deals to secure promotions or recruit people with connections.
(China Daily 10/18/2007 page1)