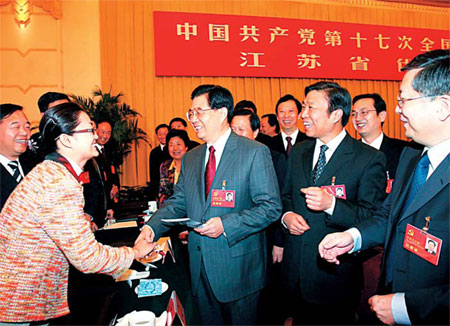 General Secretary Hu Jintao meets delegates from Jiangsu Province at a panel discussion at the ongoing 17th National Congress of the Communist Party of China. Xinhua
Party chief Hu Jintao took a commoner's approach yesterday when he joined delegates to the 17th National Congress of the Communist Party of China (CPC) in discussing social and economic development.
Other leaders Wen Jiabao, Jia Qinglin and Wu Guanzheng, all members of the Political Bureau Standing Committee of the CPC Central Committee, also attended panel discussions.
"We stress sound and rapid development, better quality, efficiency and an enlightened approach to development that results in expanded production, a better life and sound ecological and environmental conditions," Hu told delegates from Jiangsu Province.
Jiangsu's Party chief Li Yuanchao praised the country for the past five years as "having maintained sustainable, fast, coordinated and healthy development".
Hu urged officials to exploit the province's advantages and take the lead in transforming the mode of growth in accordance with the Scientific Outlook on Development.
Chen Qiuyan, who cleans the sewage treatment system in Xuzhou, was excited about meeting Hu. "We will study and put into practice the essence of the congress," she said.
In a discussion with the Sichuan delegation, Wen called for emancipation of the mind to boost socialism with Chinese characteristics.
The Party must explore and innovate the practice and theoretical development of building socialism, and learn from all intellectual achievements made by society. What is socialism and how to build it are major questions the Party faces.
He called on sustained efforts to push forward economic and political restructuring, saying only if China genuinely, constantly and fully reforms and opens itself to the outside world will it have a bright future.
The key to implementing the Scientific Outlook on Development and building the harmonious society is to put people first, develop democracy, improve the legal system and coordinate relations between urban and rural areas, different regions and economic growth and social development, Wen said.
Xinhua
(China Daily 10/17/2007 page5)