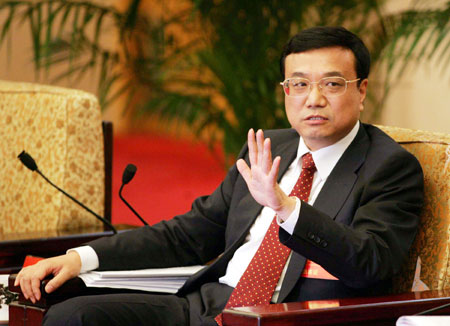 Li Keqiang, secretary of the Liaoning Provincial Committee of the CPC, speaks during a group discussion at the ongoing 17th National Congress in Beijing October 16, 2007. [newsphoto]
The top leader of Liaoning Province on Tuesday pledged scientific, ecological and efficient development of its coastal area.
Li Keqiang, secretary of the Liaoning Provincial Committee of the CPC, promised environmentally sound growth while developing the vast coastal area, a contrast with the get-rich-quick attitude adopted by other booming areas.
"We will build a new industrial base in a scientific way, ensuring efficient use of natural resources and environmental protection," Li said during a group discussion at the ongoing 17th National Congress of the CPC.
The northeastern province kicked off a strategy of linking its coastal areas two years ago, with the vision of transforming China's best-known rustbelt into a revived industrial base. But the plan has aroused concerns that the unchecked discharge of industrial waste might further pollute the Yellow and Bohai seas, already some of China's most polluted marine areas.
The coastal strategy outlines five key industrial areas along Liaoning's coast and a new highway that will connect the cities along it. Called "Five Points Along One Line", the plan is designed to take advantage of the province's abundant coastal resources and manufacturing centers.
"'Five Points Along One Line' will mark a new stage in Liaoning's reform and opening up to the world and needs to proceed in a scientific way," Li said.
"No inefficient or polluting enterprises will be allowed in the strategic area."
In support of the scheme, the majority of the province's newly increased income this year will be spent on environmental protection projects.
The province, once a prominent industrial base with many factories dating from the 1960s, has seen economic and social development almost slow to a halt since the 80s, as a result of China's industrial restructuring.
While addressing the economic problems of the old industrial base, Li said the province has also taken steps to improve the social situation.
"The goal of our development is for the people to enjoy the benefits of development," Li said, adding that the government is now economically strong enough to initiate people-first measures.
For instance, under the province's ambitious shanty town reformation plan, large expanses of slums dating back to the 60s have been replaced with rows and rows of low-rise residential buildings which now accommodate more than 1 million urban residents.
Authorities have also promised that members of "zero-employment families (ZEF)" in urban areas will receive immediate assistance within 20 days of registering with the program, called the Liaoning Long-term ZEF Aid System.
ZEF refers to urban families in which all members are unemployed.
Families where all providers have lost their jobs are also being guaranteed employment and training needed to move up the competitive ladder.
(China Daily 10/17/2007 page5)