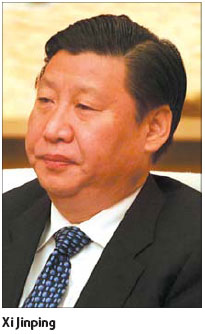 Xi Jinping, the top Party official of Shanghai, promised yesterday in Beijing to seek smooth economic development and closer cooperation with other cities in the Yangtze River Delta region.
The city has made rapid progress so far this year, hitting a GDP growth rate of 13.4 percent in the first nine months, Xi, who is secretary of the Communist Party of China (CPC) Shanghai municipal committee, said.
He said the city's average annual GDP growth in recent years was about 12 percent.
Xi made the remarks on the sidelines of the 17th National Congress of the CPC.
He also promised to push cooperation among cities in the Yangtze River Delta, which groups the prosperous Jiangsu and Zhejiang provinces.
Shanghai will in the coming months invite other cities in the region to find better ways to use their resources, Xi said.
Also yesterday, another high-ranking official from the city said that Shanghai had stepped out of the shadow cast by the social security fund scandal and is "turning a bad thing into a good thing".
The scandal, which led to the downfall of the city's former Communist Party chief Chen Liangyu and several other high-ranking officials, has been settled "timely, thoroughly and effectively", Shen Deyong said.
Shen, who is secretary of the Shanghai municipal commission for discipline inspection, was also speaking on the sidelines of the ongoing Party congress.
All the people involved in the scandal have received both disciplinary punishments from the Party and judicial punishments, he said.
City officials have been urged to learn from the scandal, while Party-building efforts have been stepped up and stronger measures taken to prevent corruption, Shen said.
On Friday, the Seventh Plenary Session of the 16th CPC Central Committee endorsed the decision made by the Political Bureau of the CPC Central Committee to expel Chen, 61, from the Party. He is the highest-ranking official dismissed in a decade.
The Political Bureau made the decision on July 26.
Chen lost his job last year as Party chief of Shanghai for his involvement in the scandal, which surfaced last September. It was reported that 3.7 billion yuan ($490 million) of the city's pension funds had been improperly invested.
More than 10 business tycoons and government officials, including the city's former labor and social security chief Zhu Junyi, former director in charge of the city's State assets management Ling Baoheng, and two magistrates, were involved.
"It's normal for an occasional dark cloud to appear in Shanghai's sky, but the sun will ultimately dispel it and the sky will be clear in the end," Shen said yesterday.
The way the case was handled was good for the rapid, healthy and orderly development of the city, he said.
(China Daily 10/17/2007 page5)