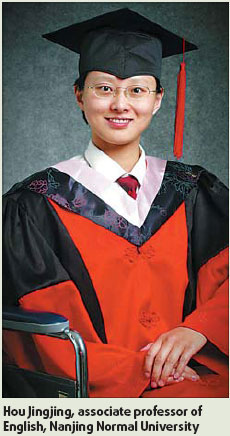 Hou Jingjing stands out among the mostly dark blue- or grey-dressed delegates attending the 17th National Congress of the Communist Party of China (CPC), because of her perseverance in the face of physical handicap.
Having struggled through life, Hou is now receiving support from an increasingly developed society. Her story epitomizes how physically disadvantaged people find their way to success in China.
Born in Ma'anshan, Anhui Province, misfortune fell on the all-A primary sixth grader when she was 11 in 1986. Due to a misdiagnosis, her legs were paralyzed.
Frequent trips for medical treatment prevented her from attending a regular school. With family love and encouragement, she started to teach herself English, despite the slim hope for further education.
By mid-1997, she finished her college education with an English major and managed to take a bachelor's degree in English after taking the annual self-taught exam.
In the winter the same year, Hou signed up and sat in for the national exam for graduate's studies. It was snowing heavily outside the exam room, but Hou was sweating inside. Taking five exams in three successive days, she persisted to the end and received the highest overall score on the exam.
In the following years, Hou overcame more difficulties than her fellow students, enduring severe pains from frequent seizure in the legs and unbearable sore in her back.
With the help of her family, she exercised. She would exercise her legs for one hour six times a day and then pick up her books again completely focused.
Despite all the difficulties, Hou did not miss a single class. And as a teacher, her student Ge Jianping recalled: "Once, in class, we saw her become much taller, and then we realized that her legs were having a severe spasm and she had to support her body with her hands to relax. Yet she always smiled in class!"
In 2001, Hou was recruited by Nanjing Normal University as a doctorate student and in 2004 won the PhD Degree, becoming the country's first doctor in a wheelchair. She was retained at the university to teach.
The university where Hou studied and teaches has also given her enormous help, including enrolling her while other universities were too afraid to take a disabled student. It also provided a special dormitory for both Hou and her carer during her postgraduate study.
Now Hou spends an average of eight hours a day teaching or doing research. She has published more than 20 papers in professional publications, written one book over 300,000 Chinese characters long and translated two other books.
In early 2007, she was promoted to associate professor.
"What I am today has mainly been contributed by the care and help of my family, Nanjing Normal University and the whole society. I could not be who I am today without them."
Reflecting on her career, she said: "People like me who have gone through special education have more passion for education. I have a strong sense that education has a tremendous influence on people: It can rescue a life and evoke a life-force!"
Hou has moved many people with her silent struggle. Young inmates in juvenile delinquent prisons are moved to tears after talking with her and hearing her story. She also has donated cash prizes she has received to schools around China.
She said it was a great honor for her to be elected as a delegate to the CPC's 17th National Congress.
There is much for her to do.
She says that she approves of the Party's guidelines for scientific development and a harmonious society.
A harmonious society means that different groups of people have equal development and that social justice prevails, she said.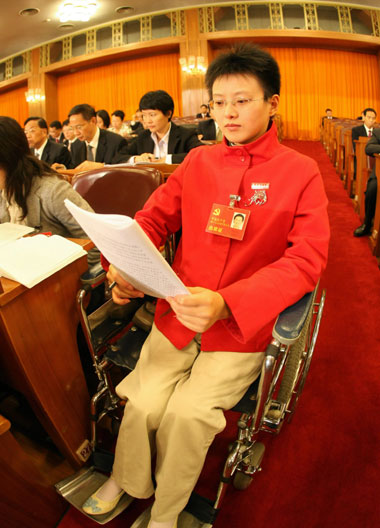 Hou Jingjing listens to the keynote speech by Hu Jintao at the Great Hall of the People October 15, 2007. [xinhua]