Yu Xiaolan is a farmer from Youyu County in Shanxi Province in the north of China. She was also a delegate to the 16th National Congress of CPC.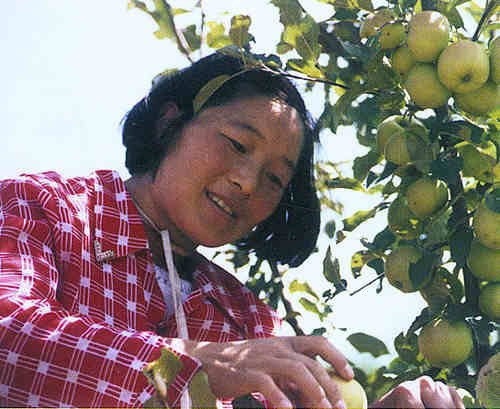 Yu Xiaolan, a farmer from Youyu County, picks apples in this undated photo. [china.org.cn]
Yu is a native of southwest China's Yunnan Province. She came to Shanxi for love and found herself waging a green war. Over a period of 16 years she has planted tens of thousands of trees on 4,000 mu (about 660 acres) of barren hillsides and 30 mu (about 5 acres) of uncultivated beach.
Yu was born into a moderately well-off family in Yunnan. In 1985, she fell in love with Shan Gong, a soldier from Shanxi who was then serving in Yunnan. Shan was smart and handsome, but his family was poor and the climate of his hometown was known to be severe. Despite the exhortations of her family and the knowledge of the difficulties she was sure to encounter, Yu married Shan and they moved to Youyu in 1989.
They started married life with two sets of bedclothes, one old and one new. Altogether they had just 1,570 yuan (about US$200), but they had each other.
Although Yu was determined to make a success of her new life in Shanxi it turned out to be much more difficult than she had anticipated. Every inch of their house was covered by dust and sand brought in by the strong winds that are so typical of the areas beyond the Great Wall. What's more, Yu could no longer afford the rice that as a southerner she was so fond of. Up north in Shanxi, rice is rarely planted and is even considered a luxury item.
They tried many ways to make a living. They slaughtered pigs for sale, cultivated mushrooms, opened up wasteland and pedaled one of the three wheel cycles that are still so commonly found jostling for space among the cars on China's roads. However they still couldn't shake off their poverty.
Sometimes Yu cried and thought of leaving Youyu, but her tenacity and the love of her husband made her stay.
In 1992, the County Government of Youyu introduced a favorable policy to encourage people to plant trees on uncultivated land. Yu saw it as a good opportunity and entered into a planting contract for 4,000 mu (about 660 acres).
With a tractor and lots of good honest toil, Yu and her husband started their own green war. They blasted rock from the hillsides to raise retaining walls, brought in soil, and planted shrubs to bind the soil together.
Within the first year they planted over 5,000 high-quality apple trees. Now they have cultivated over 100,000 saplings on land they set aside to improve the stock.
Today Yu and her husband are planting more and more trees each one pointing the way to a brighter future.