Shizuishan is the industrial center of the Ningxia Hui Autonomous Region. The city has experienced rapid economic development due to advances in new industries, industrialized agriculture, and information technology.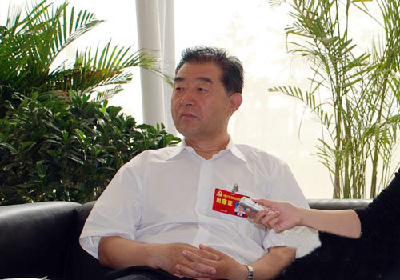 Tian Ming is the Party Secretary of Shizuishan City. He says that in the five years since the last National Congress, the city's economic output has doubled and fiscal revenue has risen 50 percent to 10 billion yuan (about US$1.3 billion). Both rural and urban incomes have seen large increases too.
The road to further industrial development has been paved by the introduction of new materials and by projects like the energy and chemical-factory cluster in the east of Ningxia. As urbanization rolls forward the aspiration is to develop an industrial garden-city.
Tian said, "Environmental protection is our imperative, economic development is the only way out, and improving people's livelihood is our responsibility." His clear understanding is that the future of Shizuishan lies in balanced development.
Shizuishan used to be a coal-mining city. The old resource-intensive enterprises which were usually heavy energy consumers and polluters have caused severe environmental degradation. These enterprises have now been shut down in line with new national policies coupled with the goal of developing an industrial garden-city.
Tian said, "The environment comes before GDP. We should not undermine the development potential for future generations."
Shizuishan has made great strides in developing a recycling economy. Hi-tech and high quality projects like a 500,000-ton PVC project, a 4,500-ton polycrystalline-silicon project, and a 240,000-ton ethanol-fuel project were introduced. Industrial restructuring has boosted GDP to its highest level ever.
Tian predicts that over the next five-year-period Shizuishan can expect annual increases in its economy to run above the average for the west of China. This target is consistent with overall development strategy but still leaves room to consolidate quality and efficiency within the context of rapid economic growth.
Tian is no stranger to the Internet and says, "The Internet is a new media with great potential, but users should also abide by principles of integrity."