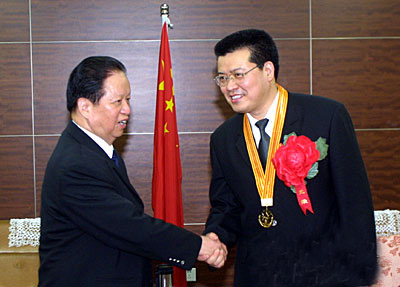 Yu Changming, 41, is a judge in the Intermediate People's Court of Yangquan City. He spearheaded a series of measures to deal with cases where there were difficulties in getting obligations imposed by the courts discharged in accordance with the judgments given.
Everyone who successfully pursues a civil lawsuit wants to see the terms of the judgment actually carried out. However in the real world this will not always happen. The Intermediate People's Court in Yangquan has a success ratio of just 70 percent (excluding cases of termination or reconciliation) despite having a good reputation for handling difficult cases.
"Compulsory execution" is the name given to the judicial process for enforcing court judgments in civil cases. Yu frankly admits that among such cases, while the obligations imposed by the court may be discharged within the due period in something more than a third of cases, a similar number may take a further two to three years because of setbacks. Meanwhile 20 percent may take even longer.
How those responsible tackle the job is crucial in achieving general public acceptance of the process.
Yu took several bold steps to confront the problems. These included referral to a superior court, auditing, notary procedures, reassigning cases to different officials, and public hearings. Such innovative steps transformed what had once been passive procedures into new proactive ones and brought a successful conclusion to a number of difficult cases.
In one example, Ms. Wang's daughter was raped and killed by three criminals. Two were sentenced to death and one was given a custodial sentence in the criminal trial.
110,000 yuan (about US$14,500) compensation was awarded in a separate civil action. However the three criminals were simply not capable of paying this amount. Yu together with his colleagues made tremendous efforts acting between the criminals and Ms. Wang. Eventually a resolution was found with the criminal who was not to be executed, promising that on his eventual release from prison he would pay compensation from his earnings. Ms. Wang agreed to sign-off on this after seeing the year-long efforts made by the four officials responsible for her case.
Of course there will always be cases where debts are not paid due to practical considerations but the judges must spare no effort. Yu says that he must vigorously pursue enforcement of court judgments and always provide an explanation where full discharge of the obligations cannot be secured. Only in this way can he gain the trust and understanding of the parties concerned.
Apart from cases where the defendant is not capable of complying with the verdict, there are other more difficult cases where the party concerned is simply not willing to comply. What's more, guanxi (getting things done through personal relationships and influential contacts) in its various forms can get in the way.
Yu places an emphasis on strategy, giving equal importance to the legal outcome and social impact. While many may find it difficult to resolve a case due to the widely different positions adopted by the parties to the dispute, Yu always seems to be able to find a solution after several rounds of negotiations.
This shows the need to adopt a flexible strategy to respond to different cases. Resolution of civil cases through reconciliation between and among the parties has to be carried out within the spirit of the law and should be conducive to social stability and unity. Cases can so easily turn into battles and a successful outcome cannot be reached without an appropriate strategy. Whatever happens there is a bottom line that cannot be crossed when concessions are made. For Yu the bottom line is that he will never go against a spirit of equity and justice.
In 2005 Yu, now Director General responsible for seeing the court's civil judgments carried out, began to shoulder another responsibility. As a member of the Party Committee of the Intermediate People's Court of Yangquan City he would have to decide which cases could be resolved on the basis of documentation alone and where a face-to-face interview was necessary.
In one particular case a plaintiff had kept on appealing to the higher authorities for help for over 20 years in order to prove that his brother had died of murder rather than in a car accident. Eventually he came to Yu for help and was warmly received. After listening to the man in tears for an hour, and carefully explaining things from the man's own viewpoint, Yu detailed all the evidence that would actually be necessary to file a murder case. As the man listened to Yu's careful explanation he came to realize the weakness of his long-held presumptions.
Gratefully this man took Yu's hand and said, "If anyone had been willing to really listen to me and help me analyze the case properly I would not have kept on at this for over 20 years. This trip to Yangquan has been so very worthwhile."
This shows that trust is the most important factor. As Yu says, "As long as we are willing to listen, give sound advice to the public, and take every matter seriously, we can always find a good solution."