Li Xuehua has been in charge of the Taiyuan Animal Quarantine Station in Shanxi Province since 1992.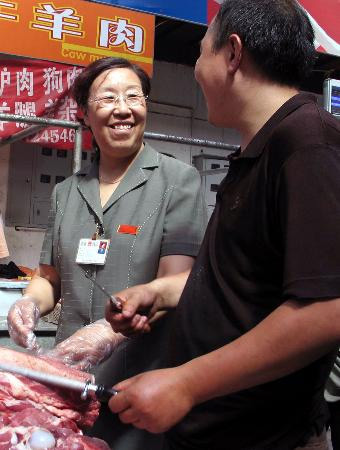 Knowing that she was elected as a delegate to the 17th National Congress of CPC, she has mixed feelings of excitement and greater responsibility, saying, "I find it very gratifying that my work has been recognized. I must continue to fulfill my responsibilities for protecting people's health by providing better quality control of meat products and stricter inspection of animal infectious diseases."
Li must be constantly on the alert in her role of protecting public health. On July 26, 2005, she had just finished dealing with some procedures for the transportation of meat into Taiyuan. It was then that a headline jumped out of a local newspaper - Porcine Streptococcal Disease Initially Diagnosed in the Sichuan Cases.
Li immediately telephoned the supervisory team at her quarantine station and asked them to contact the wholesalers to get them to stop sourcing pork from the infected areas. She then rushed back to the quarantine station to organize the necessary disease prevention and inspection measures.
Within half an hour she had drafted an emergency notice banning the importation of live pigs from Sichuan Province. This was faxed to the butchers' shops while she set out with her team to examine the meat stocks.
January 15 this year saw another case where a rapid response was vital. It started with a 19:30 TV report about contaminated pork in Hebei Province. Li alerted her inspection team and they worked on in the market into the small hours. It was just as well that they did, for they found more than 10 tons of affected pork that had already come in from Hebei Province.
Their work is so important that Li and her team will work around the clock to ensure that no trace of contamination gets through into the food supply. She says, "As a guardian of the people's health, I can't afford even one minute of neglect."
In order to ensure the safety of meat products, she and her team have researched and devised a set of procedures that are fully "fit for purpose" for their city.
She says, "Animal disease inspection is not only a matter of technical expertise and vision, but also needs to be geared to the realities of our work on the ground." She puts this into practice by frequenting the meat-product markets so she can spot and solve problems right away. Her working day might last up to 12 hours and she is on call for over 360 days a year. Thanks to her efforts, Taiyuan launched an Animal Quarantine Pilot Project in 1999. This was the first of its kind anywhere in China and as such was of remarkable economic and social significance.
A system to control access to the market for animal products was introduced in September 2002. This curbed problems with contaminated and water-injected pork. A new management system oversaw the use of refrigerated or insulated vans to transport animal products.
In June 2005, a Quality Safety Exposure System was adopted. Wrongdoers were exposed in the media which reported their infringements and quality shortcomings. Not surprisingly, this proved very helpful in inhibiting their actions.
Animal quarantine services in Taiyuan have evolved to follow a standardized and rule-based approach. Disease inspection now covers 99.6 percent of animal products on the market up from the 50 percent seen in the past.
Pets are the latest fad and animal-human transferable diseases have become Li's new concern. During the second half of last year, she had all 59 pet hospitals in the city examined. 

There are now regulations in place to cover procedures for diagnosis, treatment and sterilization together with the qualifications required by practitioners. There is also a requirement that prices are displayed on the walls of all pet hospitals.
Li is tireless in her campaign to assure and improve quality standards in her field. She says if she were to relax this could only be at the expense of people's health.