Shen Wenrong has transformed the Shagang Group into one of the most competitive steelmakers in the world. The Jiangsu-based company that was once a small player in China's market has now ranked number 23 world-wide. Shen is not only President and Chairman of the Board, but also Party chief of the Jiangsu Shagang Group.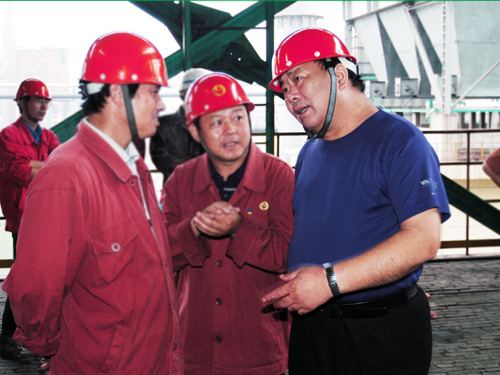 "With further improvements in competitiveness achieved through reorganization, mergers and acquisitions, I hope that by the time I am 70, Shagang will have raised its annual production capacity to 50 million tons," said the 61-year-old in an interview with Nanjing-based Xinhua Daily in June this year.
Under Shen's leadership, Shagang's strategy has been one of leapfrogging development and cost cutting. No effort has been spared in introducing advanced equipment, improved facilities and even complete production lines from overseas. Such moves have attracted much attention from others in the industry. One high-profile example was Shagang's acquisition of Thyssenkrupp's Hoesch steel mill in Dortmund, Germany.
In 2001 Shagang had plans to increase profitability through an entry to the quality slab market. So when the news broke that Hoesch was to be sold off due to high costs and lack of competitiveness, Shen flew over to conduct a field study. He knew that Thyssenkrupp's automobile steels enjoyed an excellent reputation in Europe. This was the ninth largest steelmaker in the world and its products were highly thought of by world-famous companies like Benz and Volkswagen. Back in those days, very few companies in China had the technology necessary to produce automobile steels.
Shen planned carefully. Shagang is not far from Shanghai where there was a joint venture with Benz as the overseas partner. Here Wolfsburg automobiles would continue to use quality slab steel produced according to the advanced Thyssenkrupp technologies. The only difference would be that the steel production would be carried out in the Yangtze River Delta in China.
After strenuous negotiations, Shagang purchased all the facilities at Hoesch for 220 million yuan (US$29 million). Nearly 1,000 Chinese workers moved over to Dortmund. In just one year they moved 250,000 tons of equipment to China. They also had 40 tons of documents necessary for the intricate reassembly process. It was the biggest industrial relocation in over half a century. What's more it was finished ahead of schedule, a full two years earlier than the German company had initially estimated.