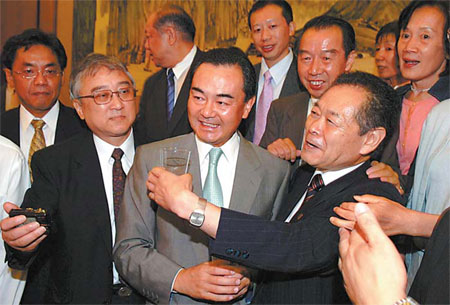 Wang Yi (center), former ambassador to Japan, chats with guests at a farewell party in Tokyo on September 10. He is a delegate to the 17th National Congress of the Communist Party of China. [CNS]
Wang Yi is China's vice-foreign minister again. The State Council announced it yesterday after his three-year tenure as the country's ambassador to Japan. Before leaving Japan, Wang delivered a lecture in Tokyo on September 10, during which the Chinese embassy in Japan's website says he expounded his idea on "starting a new phase in the course of Sino-Japanese friendship". The optimism and confidence with which he talked about China-Japan ties was in sharp contrast to a lecture he delivered just over nine months after taking over as ambassador. The full text is available on the embassy's website.
Wang was right the second time. China-Japan ties have indeed entered a new phase after former Japanese prime minister Shinzo Abe's "ice-breaking" visit to China last October and Premier Wen Jiabao's "ice-thawing" visit to Japan in April this year.
Two years ago, however, Wang had focused on how the two major Asian countries should "return to the basics, keep the promises, overcome the difficulties and develop friendship". He used quite a few euphemisms to describe the political coldness, marked by the absence of regular official exchanges between top leaders for four years.
"Wang assumed the ambassador's post when Sino-Japanese ties had reached an ebb," says Liu Jiangyong, a senior researcher on Japan at Tsinghua University's Institute of International Studies. Wang told the media before his departure that he would "strictly observe my duty, dedicate myself to our country and the people, forge ahead and try to succeed in carrying out the mission", according to the Foreign Ministry website.
Wang knew very well that the main obstacle on the road to normalization of bilateral ties was senior Japanese leaders' visit to Yasukuni Shrine that honors the war dead. "We have never objected to common Japanese people visiting the Yasukuni Shrine to pay respect to their beloved ones lost in World War II," Wang said at Japan-China Friendship Association's annual national conference in Tokyo on June 23, 2005. "But the Chinese people - who suffered the most at the hands of the Japanese militarists - naturally cannot accept it when leaders representing the Japanese government visit the shrine to pay their respects to the war criminals."
The Chinese object to Japanese leaders' shrine visits because it also honors 14 class-A World War II criminals. The International Military Tribunal for the Far East in 1948 found them guilty of brutal warfare, torture, rapes and killings in China and the Asia-Pacific region during the war.
Though Wang never compromised on principles, he always had an open mind. He was ready to explore more channels to solve the existing bilateral problems and deepen mutually beneficial cooperation in all sectors according to the principles laid out in the three important political documents signed by China and Japan.
After arriving in Japan in 2004, he told a press conference that he hoped to make friends with the Japanese people from all sectors to deepen mutual understanding and devise a developmental framework for stable and long-term bilateral ties.
And he kept his word. Liu says Wang "traveled across Japan to meet not only VIPs, but also the common people". It's easy to recount his meetings with Japanese people in many of the places he visited because all of them are documented on the Chinese embassy's website. He attended many forums on issues ranging from culture, economics and high-tech development to education, environmental protection and energy efficiency, and used every opportunity to forge Sino-Japanese collaboration in these fields.
He visited the museums dedicated to former Japanese prime ministers Kakuei Tanaka and Masayoshi Ohira and attended the funeral of Kimura Kazumi and the memorial service of Norio Shirato. While the first two politicians were instrumental in normalizing Sino-Japanese relations, the other two devoted their entire life to deepen economic and cultural ties between the two peoples.
On November 6, 2004, Wang entertained about 300 Japanese living or working near the Chinese embassy. Many of them were dressed in festival clothes because they were entering the embassy compound for the first time. "An ancient Chinese saying goes that neighbors are dearer than distant relatives," Wang told his guests. "From a global perspective, China and Japan are neighbors; in Tokyo, the embassy and everyone around it are neighbors."
Throughout the evening party, the guests - among them fire-fighters and a community chairman - sampled Chinese delicacies prepared by the embassy chefs, listened to traditional Chinese music and were entertained with a mask changing dance, made famous by Sichuan Opera. "If you hope to visit China, please come to the embassy first because here is China. If you have questions on China, please ask us at the embassy. We will give you timely and most authentic answers. If you have difficulties and need help, please contact us as well, and we will provide all necessary help," he told his guests.
Yamazaki Akiko joined a number of embassy events in Tokyo during her holidays at home in between her studies in China. "The Chinese embassy did a lot of things to help common Japanese people understand China better, such as inviting us Japanese to the embassy as guests," says Akiko, who is now a graduate student of journalism at the Renmin University of China. "I found it a good way to communicate. Ambassador Wang speaks fluent and cultured Japanese and is easily accepted by the Japanese people," she says.