Jinan, known as the "City of Springs" and capital of Shandong Province, held its first Car Free Day as part of clean air initiatives and to coincide with national and International Car Free Day on Saturday, September 22, 2007.
With the theme of "Green Traffic and Health", many people, including children participated in Jinan's "Car Free Day".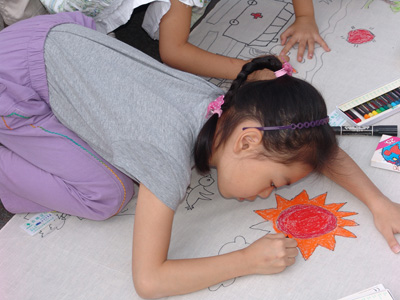 A girl is paintingcolors in the sun on the cloth as part of "Car Free Day" in Jinan. [chinadaily.com.cn]
On Saturday, a group of students played violins and sang songs on Quancheng Road, one of Jinan's main streets, and many children drew pictures of "Spring City in My Heart" on a long white cloth sheet. Some drew red bright suns, and some painted little birds flying in the air.
A seven-year old girl said she liked small animals so much that she hoped to see more birds flying in the sky.
A parade of bike riders in athletic gear and sunglasses started from Quancheng Square and toured the "no car streets" to promote this day.
Jinan's campaign slogan is "Green transportation. Take the bus."
Jinan's local government called on its residents to take more public transit and use pedal power to get around rather than the car.
"Green traffic and clean air green transportation benefits everyone and needs people's support and participation,"said Jia Yuliang, general director of the Jinan Urban Public Facilities Bureau. "Improving urban public transportation is the key to better utilizing transportation resources, easing urban transportation pressure and protecting the environment."
Another 107 cities across China also held similar events for "Car Free Day" on Saturday.