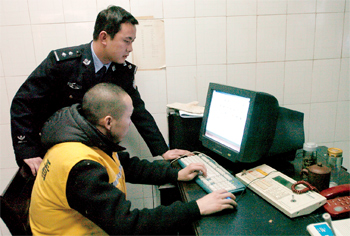 Li Jun writes and tests anti-virus program under police supervision to remove the "panda" virus he created in this February 2007 file photo. [Xinhua]
Li Jun, author of the "panda" virus that was used to infect computers across the country, was on Monday sentenced to four years in prison by the People's Court in Xiantao, Hubei Province.
Three accomplices of the 25-year-old man, all aged in their twenties, were given sentences of between one and two-and-a-half years.
The four were found guilty of writing the virus and transmitting it via the Internet, causing damage to millions of computers between last November and March of this year.
The case is also the first in the country involving the use of a virus for financial gain.
Li admitted to writing the virus, officially named xiongmao shaoxiang (panda burning joss stick), on October 16, 2006.
It is so named because it converts the icons of infected programs into a picture of a panda holding three joss sticks.
According to a spokesperson for Rising, a Chinese anti-virus company, panda can still be found online in about 100 mutations.
The company listed it as the worst virus of last year.
Infections were found in both the Chinese and English versions of Windows, where it could be used to force PCs to automatically restart and also steal user information from online gamers and chatters.
The Rising spokesperson estimated the four authors also made about 200,000 yuan ($27,000) from the sale of the program's script.
After being detained in February, Li wrote an anti-virus program to combat panda. Previous attempts to kill the virus were largely the work of online volunteer groups.
A recent report by Rising said 133,717 new viruses were reported on the mainland in the first half of this year.
As of the end of June, China was estimated to have 162 million Internet users.
Wang Wanxiong, lawyer for Li Jun, said some Internet companies had tried to hire Li Jun, offering an annual pay of more than 1 million yuan.
Wang said Li is a gifted computer talent, and has learned his lesson and shows repentance. He hoped to use his expertise in computer and contribute to the social development after serving his prison terms.