ZHUHAI, Guangdong: A charity golf event teed off in Zhuhai on Friday, collecting more than 100,000 yuan ($13,300) in donations for needy elementary schools in Northwest China's Gansu Province.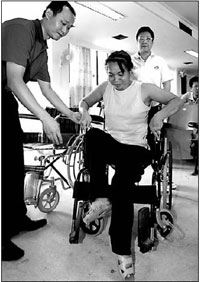 A woman tries a wheelchair donated by the Rotary Club of Mid-level, Hong Kong on Friday in Zhuhai, Guangdong Province. The club also hosted a charity golf event to raise money for school in Dongxiang in Gansu Province. [Zou Zhongpin]
The Hong Kong-based Rotary Club of Mid-level planned the event. The club is a member of Rotary International, a global network of volunteers.
The schools benefiting from the donations are in the Dongxiang County of Linxia Hui Prefecture in Gansu Province.
"The schools are very old and shabby. We will donate all the money we collect from the golf game to the schools and help them repair their buildings," the club's international service director Jerry Liu said. "We believe we will collect a total of 160,000 yuan."
The golf event is not the only effort to assist the schools.
Liu said another charity event next month was expected to bring in 200,000 yuan. The money will be used to purchase new teaching facilities for the schools.
The golf competition attracted 77 players from Hong Kong, Taiwan and South Korea.
Participants had to pay a far higher price than usual for their round.
The golf club subtracted its basic operating costs and the money left over was donated to the fund, a former president of the club Norman Lam said.
Besides donations for Gansu's elementary schools, the club also donated 45 wheelchairs and a number of crutches to Hongqi County, Zhuhai, Guangdong Province, benefiting 61 disabled people.
Rotary is a worldwide organization of business and professional leaders that provides humanitarian service, encourages high ethical standards in all vocations, and promotes goodwill and peace around the world. About 1.2 million Rotarians belong to more than 32,000 clubs in more than 200 countries and regions.