The latest China Railway High-speed (CRH) train with a cruising speed of more than 300 kilometers per hour will leave the assembly line by the end of this year, according to Monday's Beijing Morning Post.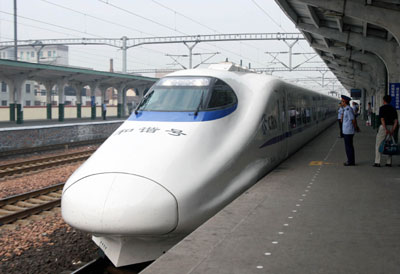 CRH trains on the Zhengzhou to Shanghai route enters into service on Sept,10,2007.The traveling time from Zhengzhou to Shanghai is  5 hours and 17minutes faster on a CRH train.[Xinhua]
Each CRH train has several electric-powered motorcars, compared to traditional trains that have one locomotive. Therefore, a CRH train can accelerate and decelerate faster than traditional trains. Currently, CRH trains can run at speeds of over 200km/h.
By taking CRH trains, passengers can significantly cut their travel times. For instance, a CRH train only takes 3 hours and 20 minutes from Beijing to Jinan, about one hour less than the fastest traditional train. The traveling time from Beijing to Qingdao is also 3 hours faster on a CRH train.
However, CRH train tickets cost more than normal trains. From Jinan to Beijing, passengers will have to shell out 152 to 182 yuan by taking CRH trains compared with 64 to 73 yuan for a hard seat on normal trains.
CRH trains started service on April 18 this year, marking the sixth speed boost made by the Ministry of Railways since 1997. Having CRH trains on the tracks will alleviate the country's transport congestion.
Not only are the CRH trains designed to go faster, but there are also plans to improve the luggage, soft sleeper and dining carriages. These projects are on the agenda of the 11th Five-Year Plan (2006-2010), according to Liu Zhijun, Minister of Railways on September 9.
The Beijing Morning Post adds that the Ministry of Railways will purchase domestically developed railway products to support the industry.