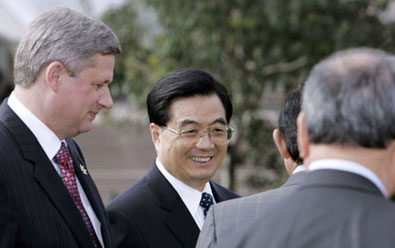 China's President Hu Jintao (C) and Canada's Prime Minister Stephen Harper (L) prepare for a family photo on the final day of the Asia-Pacific Economic Cooperation (APEC) leaders meeting at the Sydney Opera House September 9, 2007. [Reuters]
Chinese President Hu Jintao's just-concluded tour to Australia, a major diplomatic move by China in the Asia-Pacific region, is of great significance in facilitating the development of bilateral ties and deepening regional cooperation, Foreign Minister Yang Jiechi said Monday.
During his seven-day tour, which started on September 3, Hu paid a State visit to Australia and attended the 15th Economic Leaders Meeting of the Asia-Pacific Economic Cooperation (APEC) forum in Sydney.
The president's visit has yielded fruitful results in various aspects, Yang told reporters on the way back to Beijing.
CHINA-AUSTRALIA TIES BOOSTED
Hu's successful State visit to Australia has achieved the goal of promoting mutual understanding and deepening cooperation between the two countries.
China and Australia have agreed to strengthen mutual political trust, deepen trade and economic cooperation, broaden humanistic exchanges and enhance communication and coordination in international and regional affairs.
The two sides will jointly push forward the in-depth development of their relationship of comprehensive cooperation.
Hu and Australian Prime Minister John Howard announced the establishment of a strategic dialogue mechanism between the two countries,
China and Australia also issued a joint declaration on climate change and energy, and signed a series of agreements and contracts in the fields of trade and economy, energy, justice and culture, which have raised their mutually-beneficial and practical cooperation to a new level.
Australian leaders said China's development is conducive to Australia and the world as a whole, adding that they will continue to contribute to the two countries' cooperation in various areas.
FACILITATING REGIONAL COOPERATION
During the visit, Hu expounded the Chinese government's policy and stance on major issues concerning the regional and global interests.
In a speech delivered at the APEC meeting, the Chinese president put forward four proposals on tackling climate change, including ways of strengthening cooperation, pursuing sustainable development and promoting scientific and technological innovation.
The Chinese president also proposed the setting up of the Asia-Pacific Network on Forest Rehabilitation and Sustainable Management.
He spoke of China's measures, achievements and targets in controlling greenhouse gas emissions.
It is the first time for the Chinese government to put forward substantial and pragmatic proposals on climate change at an international meeting.
On regional economic integration, Hu said China is ready to work with other members to play a constructive role and move the Doha Round negotiations toward a comprehensive and balanced outcome at an early date.
APEC members should promote regional economic integration at various levels and by various means, Hu said.
At the APEC Business Summit, Hu put forward a five-point proposal, calling for the promotion of balanced world economic growth, the establishment of a sound multilateral trading regime, ensuring stable energy supply, the maintenance of a sound natural environment, and the advancement in science, technology and education.