Little Zhang Huimin has a big - and long - dream: To win the marathon at the 2016 Olympics.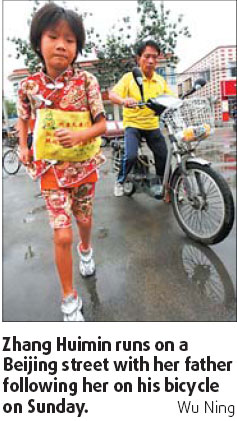 The host city for the Games nine years away has not yet been selected but the eight-year-old has been mapping her route methodically.
On Sunday, she reached Beijing after running all the way from Sanya in South China's Hainan Province - covering a staggering 3,560 km in 55 days, or about one-and-a-half marathons a day.
And the tanned girl, who weighs only 20 kg and is 1.25 meters tall, has an attitude to match her ambition.
"Give me milk. I want to drink milk," Zhang shouted in a high-pitched voice at her father and brother, ignoring the media thronging the room in a modest hotel.
After shooting for a TV program yesterday afternoon, she was nonchalant, almost dismissive, as she answered questions dressed in a white top, orange pants and a pair of brand-new pink sports shoes - all provided by her sponsor, a sportswear company in Guangdong Province.
"I feel happy", said Zhang, when asked why she likes to run, and then threw the empty milk carton on the floor.
Her idols?
Olympic 5,000-meter gold medalist Wang Junxia and 110-meter hurdles ace Liu Xiang.
In another interview, she said Zhou Chunxiu - who won this year's women's London Marathon - was the one she wanted to emulate.
"I want to be a champion, too," she said tersely and skipped into the other room.
Her father Zhang Jianmin was left to respond to reporters.
"Too much self-confidence might be to her disadvantage with the spotlight constantly on her," admitted her father. "We will get home soon. I don't want her to be spoiled (by the media)."
He described the regime on the road to Beijing.
She got up at 2:30 am and ran an average of 70 km, wearing out 20 pairs of shoes in the process, he said.
Only twice she rode on her father's motorized bicycle - when she was chased by four wild dogs and when it was too dangerous to run down a steep mountain road, he added.
Systematic training, rather than talent, helped her finish the long run, the father said.
The young runner started with 3 km a day since she was three and was hitting 23 km daily by the time she was seven.
Training starts at 3 am and lasts until 9 am to avoid the heat in the tropical province.
Her father, who always runs by her side, feeds her three bottles of milk and two eggs during the run.
Experts said such a regime could damage the girl's health and affect her growth.
"It is an extremely hard running process even for an adult," said Liu Hong, director of the China School Sports Federation. "The running will certainly harm her."
Zhang tried to fend off criticism of child abuse in some media. "I never impose my will on her," said the father, an amateur runner himself.
"You can force your child one day. But you cannot force one to wake up early in the morning everyday if one doesn't want to."
For little Zhang, running is more about jumping and playing, rather than a chore, he said.