BEIJING -- China has established a blacklist of companies that have violated rules on the quality of exports, the commerce ministry said Saturday amid growing global concern about the safety of China-made goods.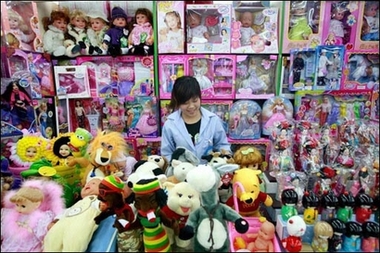 A woman selling Chinese made toys waits for customers at a shopping center in Beijing, 02 August 2007. [AFP]


"We have set up a blacklist system for companies in the exporting sector and punished some companies that have violated laws and regulations," Vice Commerce Minister Gao Hucheng said in remarks posted on the ministry's website. "Already 429 companies have been punished."

Gao said the recent examples of companies that had been targeted included two firms that illegally added a deadly chemical to food products blamed for killing thousands of US pets.

The two companies, Xuzhou Anying Biologic Technology Development Co. Ltd. and Binzhou Futian Biology Technology Co. Ltd., had their export foreign trade licences revoked, Gao said.

Gao stressed the government line that Chinese products were overwhelmingly safe and of high quality, and called on foreign media not to hype the problems of a small minority of goods or companies.

"China will strengthen international cooperation on the safety of products," Gao was quoted as saying.

A delegation of US officials in Beijing hammered out "basic frameworks" for two agreements seeking to reassure US consumers that Chinese-made goods met safety standards, Secretary of Health and Human Services Mike Leavitt said on Friday.

China, where the former drug and food safety watchdog chief was executed last month for corruption, has also cancelled the licences of six medicine manufacturers.

Ban imposed on Indonesian seafood

China has banned Indonesian seafood after checks turned up dangerous contamination, the Beijing government's food regulator said.

China's General Administration of Quality Supervision, Inspection and Quarantine said on its Web site late Friday that seafood shipments shipped after that date would be returned or destroyed.

Seafood received before Friday will be carefully inspected, the agency said.

The announcement did not cite any specific seafood products but the Chinese administration said Indonesian products have been found to contain mercury and cadmium, metals that can accumulate in water and soil from burning garbage, mining or other industrial processes. Both contaminants also have been linked to nerve damage, cancer, and other health problems.

The agency also said Indonesian products had been found to contain nitrofural, an anti-bacterial agent that could cause cancer in laboratory animals.