China has been steadily increasing the flexibility of the yuan, but it will not bow to outside pressure for faster revaluation, Minister of Finance, Jin Renqing, said.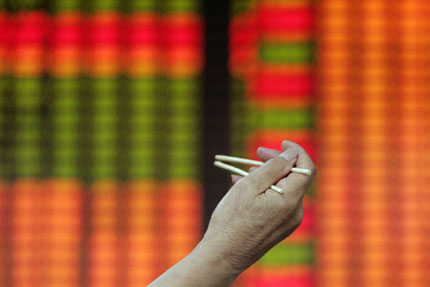 An investor holding a pair of chopsticks has his lunch in front of an electronic board at the stock exchange in Shanghai June 4, 2007. China's main stock index tumbled 8.26 ercent or 330 points on Monday to close at 3670.40, adding to big losses suffered last week after the government hiked the share trading tax to cool speculation. [Reuters]





"The biggest challenge for China is to maintain the sound momentum in its economic growth," Jin told reporters during the Asia Pacific Economic Cooperation finance ministers meeting in Coolum, Australia. "China's currency reform should be self-initiated, controllable and gradual," he said.

The two-day meeting, which concluded on Friday, has called for a more flexible currency regime globally to reduce the global economic imbalance.

Japan has been in the spotlight as the yen has pushed the Korean won to a decade high and the New Zealand dollar to a 22-year high. It has dampened exports of both countries.

China has also been pressured by the United States in recent days to pick up the pace of its yuan revaluation.

The US Senate Banking Committee and Senate Finance Committee have passed legislation respectively to increase pressure on Washington to force Beijing to toe the line.

But economists agree that the yuan's revaluation will not be sufficient to lift the US out of its economic woes.

The US trade deficit as well as that of some other developed countries have arisen, fundamentally, from their incomplete and poor industrial structures, Liu Xiahui, an economist with the Chinese Academy of Social Sciences, said.

"The US has developed to a stage where it does not manufacture much of the traded goods," he said. "They must be imported from countries with lower production costs and higher competitiveness."

The increased value of a currency will not do in the future, Liu said, noting that even the Japanese yen has been revalued drastically, but the country continues to enjoy huge trade surpluses.

Many economists agree that a freely floated currency will have little adverse impact on an advanced market with good management expertise, but it may deal a fatal blow to the developing markets, Liu said.

A hasty reform pace will jeopardize China's economy, economists said.