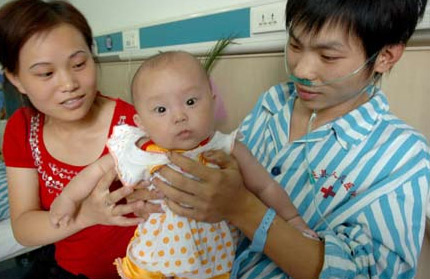 Hou Haifeng, one of the 69 miners rescued from a flooded mine in Henan has an emotional reunion with his wife and daughter at a local hospital, August 2, 2007. [China Daily]
 
"My heart went up and down many times during the 75 hours. Sometimes I felt hopeful, sometimes hopeless. On the second day we were trapped, ventilation was interrupted and power went off for a while. Some of us panicked, and some cried," recalled Guo Shitun.
One of the 69 coal miners who survived a flooding accident in one of the most miraculous rescue efforts in recent history, Guo yesterday related the fear and hope underground.
The mine, where Guo worked in Shanxian County, Central China's Henan Province, was partly submerged on Sunday morning due to torrential rainfall. He and some others pooled together all the lamps. Since each lamp has only eight hours per charge, they used six at one time.
Later on Sunday, 300 armed policemen were called in to block flooding holes. Large plastic canvasses were used to shield the mountainside from further pounding of the deluge. On Monday, 400 shots of cannon were blasted to dispel the clouds.
Meanwhile, down in the tunnel, the miners thought about diverting water to a nearby empty pit. Three young men, agitated, attempted swimming through the inundated section, but were talked out of it.
"It would have been suicidal to swim for several hundred meters under water," said 40-year-old Guo.
Luckily, where the miners were stranded, they had access to a telephone and a 5-cm-diametre tube for ventilation. On the very first night, Xu Guangchun, Party Secretary of the province, called the trapped miners to assure them that everything humanly possible was being done to get them to safety.
Through the tube, a total of 400 kg of milk was gushed down to keep the miners from hunger. Before that, the miners had pooled whatever little food they had brought with them and devised a ration system.
"We should live together and die together," they told one another.
The telephone was the most crucial factor in maintaining sanity, they said. It kept them informed of what was happening above ground and prevented them from needless risks.
Hou Haifeng had two telephone conversations with his wife. The 22-year-old, youngest of the miners, has a six-month-old baby girl: "Although I assured her I was okay, in my heart I felt sad. But I could sense how worried everyone was up there. I remember one official told me to hold on and don't give up. 'Now that we're all in this, we're brothers,' he said. I'll take you all to a drink when you come up."
A nearby mining company sent 360 workers to help clear the sludge that had jammed the tunnel. A 100-meter section turned out to be not as difficult as feared.
By 9:50 on Wednesday, the first miner was pulled out to safety.