Courts in northern China have sentenced 31 people, including a police officer, to prison terms of up to five years stemming from the use of slave labor in brick kilns, state media reported Thursday.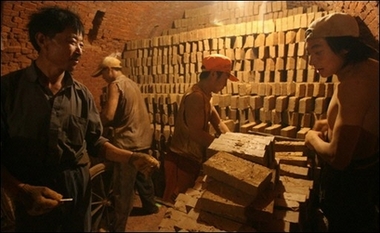 Chinese workers stack bricks inside a kiln near Yueyang in Hunan Province, 14 July. A policeman and a social security worker were among 31 people jailed for their roles in a Chinese slave scandal, state press reported Thursday, bringing the total number of convictions to 60.[File]
The scandal erupted in June after news media reported that children as young as 8 were abducted or recruited from bus and train stations with false promises of well paying jobs and sold to kilns for about $65. Victims were forced to work almost around the clock, beaten, and deprived of pay, nourishment and basic medical care.
Four government employees in Hongtong County and Yongji City in Shanxi province received jail terms of two to three years after being convicted of abuse of power and dereliction of duty, the official Xinhua News Agency said, citing the provincial Higher People's Court.
They included officials of the local industrial and commercial department, a policeman and one labor and social security worker.
The 27 others included brickyard managers and foremen who were convicted of using child labor and beating workers, Xinhua said. The report did not say when the 31 were sentenced.
Separately, the foreman of a brick kiln where workers were beaten and forced to work 18-hour days was sentenced to life in jail last month. One of his subordinates was sentenced to death for the beating death of a laborer.
Close to 1,000 workers have been freed following police raids and Premier Wen Jiabao ordered a thorough probe and punishment of kiln owners and officials who abetted their activities.
The use of slave workers came under the spotlight in part because of an open letter posted online signed by a group of 400 fathers appealing for help in tracking missing sons they believed were sold to kiln bosses.
The fathers accused Henan and Shanxi authorities of ignoring them or even protecting the kilns and human traffickers, saying about 1,000 children were being forced to work at kilns under conditions of extreme cruelty.
China has punished dozens of low-level officials for allowing the brick kilns to operate using slave labor. However, higher-ranking officials have been cleared of wrongdoing and a top provincial official dismissed allegations of corruption.