MANILA - East Asia must reconsider its concept of security and drop a "Cold War mentality" of competing for military superiority in favour of more trust and cooperation, Chinese Foreign Minister Yang Jiechi said on Thursday.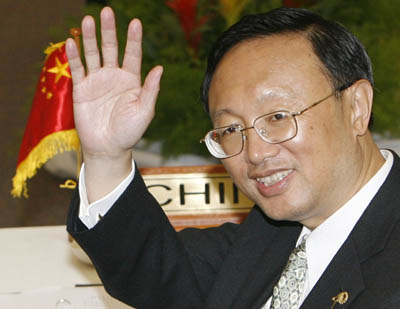 Chinese Foreign Minister Yang Jiechi waves to the media before the 40th Association of Southeast Asian Nations (ASEAN) Ministerial meeting in Manila July 31, 2007. [Reuters]
Speaking at the region's largest security forum, Yang portrayed China as a stabilising force promoting peace and cooperation in Asia.
"Under the influence of the Cold War mentality, there is a trend towards building up bilateral military alliances to gain absolute military superiority," Yang said in speech at the Association of Southeast Asian Nations (ASEAN) Regional Forum.
"This undermines political mutual trust, causes uncertainty to regional security and has become a source of concern to people."
Yang said China "is actively involved in promoting peace, development, cooperation and prosperity of the Asia-Pacific region." "We have consistently acted in the spirit of setting aside differences to expand common ground and call for seeking peaceful and negotiated solutions to historical issues and current disputes of interests," he said.