China needs to improve the quality of its exports to win a better international reputation, Premier Wen Jiabao said during a meeting on Friday that set out punishments for food and drug firms that violate standards.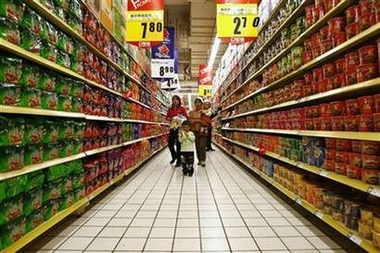 File photo of shoppers at a supermarket in Shenyang, in northeast China's Liaoning province, May 14, 2007. [Reuters]
"Product quality relates to our people's interest, the survival and development of our enterprises and the image of our nation," Wen told the meeting on export quality.
It was crucial to win over the international market with good-quality exports, Wen added.
Chinese exports of everything from fish to toys, pet food to toothpaste, have been found in recent months to be mislabeled, unsafe or dangerously contaminated, creating an international backlash.
Wen's remarks were reported on state radio and TV. "We will not avoid problems, but we protest against untrue reports that tell only part of the story, and trade protectionism and discrimination," Wen was quoted as saying.
Food safety scandals are a regular topic in the Chinese media, but the nation lacks a basic food safety law and the ability to enforce its food and drug safety regulations at home or for exports. Its imports are generally carefully scrutinized.
The head of the State Food and Drug Administration was executed last month, after being found guilty of accepting bribes to approve drugs.
"It is a timely, urgent and important job and also a long-term and enduring task for us to fully improve the quality of Chinese products," Wen said.
China would raise the threshold for products relating to human health and safety so as to prevent problematic exports from leaving the country, he said.
The authorities would also check every stage of production, including raw materials, additives and intermediate products, so as to make the "made in China" brand a symbol for goods with great quality, Wen said.
Producers of food, drugs and other agricultural goods that violate the food safety rules would face fines of up to 100,000 yuan ($13,220), have operation certificates or export permits cancelled or even risk arrest, according to regulations carried on the central government Web site (www.gov.cn).
($1=7.562 Yuan)