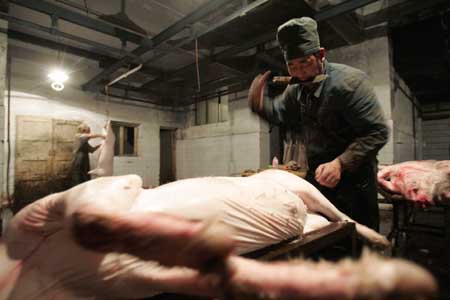 A labourer works inside a pork processing factory in Dingxi of northwest China's Gansu province July 26, 2007. [Reuters]


July 26 -- China, the world's largest pork consumer, said a new vaccine for pigs against so-called Blue Ear Disease is effective, and may curb the rate of new infections among herds from next month.

Some farmers had used an older vaccine against new strains, Li Jinxiang, deputy director of the veterinary bureau at the Ministry of Agriculture, said yesterday. Officials were "fairly optimistic" about resisting the spread of the disease, he said.

Porcine Respiratory and Reproductive Syndrome, as the disease is also known, has contributed to a hog shortage, driving up local pork prices and helping push China's inflation rate to the highest in almost three years. The nation's central bank said June 5 it is "closely" watching rising food prices.

"The vaccine works, the infection rate of the disease should slow down in August," Li said at a press conference, answering a question about whether the vaccine works. "We are fairly optimistic about controlling the Blue Ear outbreaks."

As of July 22, there had been 651 outbreaks in 25 provinces so far this year, Li said. The disease affected 165,144 pigs, killing 45,546 and causing the culling of 42,728. In the first 22 days of July, there were outbreaks in 11 provinces, he said.

Still, the newly developed vaccine has not always been effective, analysts including Guo Huiyong at Beijing Orient Agribusiness Consultants Ltd. said.

The new vaccine was developed in a short time, and the results were mixed as the disease has several variants, Guo said yesterday. If the vaccine was improperly applied it could speed up the death of the animals with the virus, he said.

Wholesale pork prices in China have surged 47 percent in the past three months to 19.33 yuan ($2.56) a kilogram on July 20, according to Ministry of Commerce data. Inflation was 4.4 percent in June, the fastest pace since September 2004.

Animal diseases, rising grain prices and low pork prices last year have caused China's pig output to "markedly decline" for the first time in 20 years, Cao Changqing, director of pricing at the National Development and Reform Commission, said yesterday. The commission is the nation's top economic planning agency.