A lot can change in six years.
At least that's the experience of Didier Zheng, an openly gay Chinese man who just wrapped up a stint hosting China's first Internet television show devoted to addressing homosexual issues.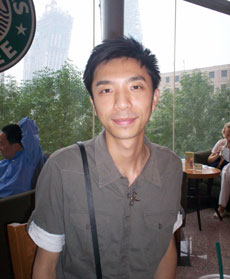 Didier Zheng, A French teacher and AIDS activist, hosts a live weekly show on the Internet about issues ranging from AIDS prevention to why some people are gay. [chinadaily.com.cn]

Educated at the Sorbonne University in Paris, Zheng said he found a new climate in China after returning in 2006 from his six years abroad. That's because in 2001 the Chinese government took homosexuality off its list of mental illnesses; and Shanghai's Fudan University introduced its first undergraduate course on homosexuality in 2005.

And then there's Zheng's live weekly show, which made its Internet debut in April. Called "Tongxing Xianglian," or "Connecting Homosexuals," the show's purpose was to educate gay and heterosexual communities about issues ranging from AIDS prevention to why some people are gay.

Speaking to chinadaily.com.cn in French-accented English, Zheng is talkative and eager to talk about gay issues. The 27-year-old has a slim build and engaging personality.

"After 2001, everything changed," Zheng said. "Society is changing. We are paying more attention to gay man's socialization and integration [into society]."

A French teacher and AIDS activist at Chi Heng Foundation, Zheng believes that China's economic development, coupled with an influx of foreign ideas from across the globe, has helped China make progress in its treatment of gays.

The show's guests were chosen to represent different aspects of gay life. For example, some were celebrities such as singers and actors, while others included doctors and ordinary Chinese. Zheng also conducted interviews at a gay bar called Destination in Beijing's Sanlitun nightclub area.

"I just want to give more information, especially to non-gay people," he explained. "They know very little about gay life."

But despite the warming climate in China for gays, the show also indicates how much more progress the country needs to make.

Zheng thinks the Internet format of the show worked well because content is archived online at www.phoenixtv.com and viewers can watch it at their convenience. But he also acknowledged that the authorities monitored the show's content carefully, though he declined to cite specific examples of changes.

So far, 16 million people have logged on to watch the talk show, which had 12 episodes.

"There are many people in China's gay community, but people don't have a deep enough understanding about this community," the show's producer Gang Gang said before the debut. "This community faces a lot of trouble and difficulties."

Zheng said his family, especially his brother, have been very supportive of his decisions. But many of his friends have not been as fortunate - which partly motivated him to host the show.

"Discrimination is very common in a society," Zheng explained, adding that he thinks that younger generations are slowly changing this behavior and that this is an international norm.

The show aired through the year's second three-month programming season. Zheng said he is unsure if he will be asked to do something similar for another season.

Zheng hopes in the near future to produce some special reports and conduct more interviews. His goal is to speak with high-level international officials such as the mayor of Paris to ask them about the government's role in legislating rules related to homosexuals. He said these interviews could serve as possible models for Chinese behavior.

"I just want to speak out about gay life in China."