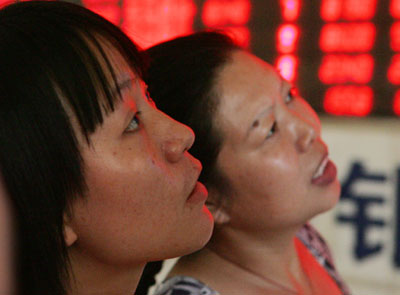 Investors monitor stock price movements at a brokerage firm in Wuhan, Central China's Hubei Province on July 23, 2007. [newsphoto]
Chinese stocks fell in late trading on Tuesday, reversing two consecutive days of sharp gains, as investors dumped shares when the benchmark index neared a record high.
The Shanghai Composite Index opened today 0.59 percent higher at 4,238.32 and at one point climbed to 4,284.83, very close to the record high of 4,335 reached on May 29.
That prompted many investors into selling on fears of another major correction. The market has been highly volatile and seen a series of sharp falls since May 29 after the government tripled the stamp tax on stock trading.
The index closed at 4,210.33, a decrease of 0.07 percent from Monday's close, as compared to a 3.73 percent gain on Friday and a 3.81 percent rise on Monday.
There is a lot of resistance to go beyond the 4,300 mark, analysts said. They expect further consolidation by the market before it can hit new highs.
The banks' performances were divided. Bank of Ningbo rose 2.65 percent to close at 25.98 yuan per share, followed by a 2.48 percent increase in shares of China Minsheng Banking Corporation to 14.04 yuan.
The Industrial and Commercial Bank of China dropped 1.04 percent to 5.69 yuan, while Bank of China fell 0.92 percent to 5.36 yuan.
The insurance sector continues to be weak. China Life, the country's top life insurer, decreased 1.96 percent to 48.02 yuan, and Ping An Insurance of China declined 1.13 percent to 82.52 yuan.
China Unicom also dragged down the Shanghai Index as it lost 1.73 percent to 6.24 yuan. Shanghai Auto fell 0.95 percent to 21.88 yuan.
Trading volume in the Shanghai Stock Exchange shrank to 141.6 billion yuan from 154.3 billion yuan on the previous session. Turnover in the Shenzhen Stock Exchange expanded slightly, to 76.55 billion yuan, compared to Monday's 76.46 billion yuan.