BEIJING - China's president visited a flood-battered southern city on Sunday, expressing condolences and vowing to help the thousands affected as the death toll from rain-triggered floods, landslides and mud flows across the nation rose to 152 from this week alone.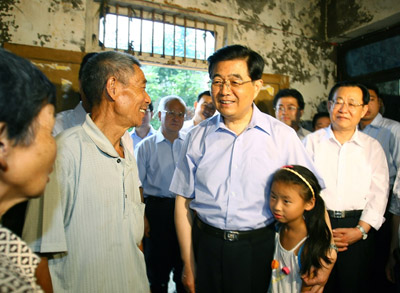 Chinese president Hu Jintao talks with flood-stricken residents in southwest China's Chongqing on July 22, 2007. The death toll from rain-triggered floods, landslides, and mud flows across the nation rose to 152 from this week alone. [Xinhua]


Since the start of the annual rainy season in May, floods have hit nearly half of China's regions and killed at least 400 people, the official Xinhua News Agency said.

In the southwestern city of Chongqing, 42 people died and 12 have been reported missing. Another 300,000 people have been evacuated.

China Central Television's Sunday night news broadcast showed President Hu Jintao slogging through Chonqqing's flooded streets in black galoshes and visiting with city residents whose homes had been inundated.

Hu was shown chatting with an elderly man living in a washed out apartment, asking, "How high was the water? Are you having any problems getting enough food? Do you have all the things you need to cook your rice?"

During a speech in the city's flooded Shapingba district, Hu told residents that the Communist Party and government were concerned about their welfare and would do everything possible to care for them.

"You all have suffered," Hu told a small crowd gathered on the street. "This once-in-a-century rain disaster has destroyed your homes and washed away your belongings, causing significant losses. I am sad as you are sad. We must have the determination and courage to overcome this."

Chinese media have reported that 266.6 millimeters (10.5 inches) of rain fell between Monday night and Tuesday afternoon in Chongqing, the largest volume since records began in 1892. The previous record of 206.1 millimeters (8.1 inches) was set on July 1996.

Hu spent Saturday and Sunday in Chongqing, also visiting People's Liberation Army soldiers carrying out recovery work and local entrepreneurs, Central Television said.

Even harder hit this week was southern China's Yunnan province, where rain triggered floods and landslides from Wednesday to Saturday. More than 4,000 houses were destroyed and 386,000 people evacuated, Xinhua said. It cited the Ministry of Civil Affairs as saying that 59 people were killed in Yunnan, most of them caught in violent mud flows on Thursday.

Eastern China's Shandong province was also badly hit, with 40 reported dead and another nine missing. Some 112,600 were evacuated. The rain inflicted severe damage to the province's transportation and telecommunications systems, Xinhua said.

Jinan, Shandong's capital and the worst-hit city, received up to 118 millimeters (4.65 inches) of rain in an hour during a storm on Wednesday.

According to Xinhua, officials at the Shandong Department of Water Resources said the rainstorm was the worst since 1916, when Jinan began to record such data.

In the far western Xinjiang region, torrential rainfall caused 11 deaths and injured more than 100, it said.

Summer is peak rainy season in China, where millions of people in the central and southern part of the country live on farmland in the flood plains of rivers.

Flooding and typhoons killed 2,704 people last year, according to the China Meteorological Administration. That was the second-deadliest year on record after 1998, when summer flooding claimed 4,150 lives.

Also Sunday, Xinhua reported that the middle and lower reaches of the Huai River, China's third longest, are facing the danger of flooding after days of rain.

More than 1 million people have been evacuated in central China's Henan, Anhui and Jiangsu provinces from the projected path of floodwaters along the Huai, which could suffer its worst flooding since 1954 if dams and flood walls break.

There have been no reports yet of any deaths from rain or flood along the Huai.