HEFEI - The middle and lower reaches of the Huaihe River, China's third longest, face severe flood-control challenge as the water level might remain dangerously high for at least another 10 days.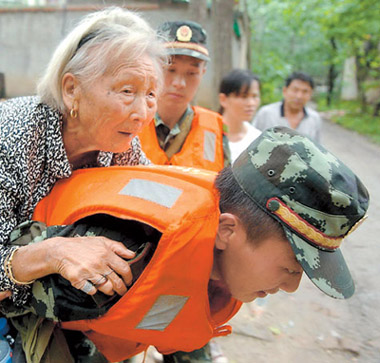 A police academy student carries Cui Guoying, 86, from her home along the Huaihe River in east China's Anhui Province, July 19, 2007. [Shanghai Daily]


The dikes that have soaked in high water level for 19 days would be at an increased risk of breach in the coming 10 days, officials with the flood control headquarters in Anhui Province said Saturday.

Anhui provincial authorities have found 517 places in the dikes in dangerous condition by 3:00 p.m. Friday, up from 502 places by Thursday. All the places were repaired in time.

The Huaihe River area will see more rains on Saturday and Sunday, according to the China Meteorological Administration.

Rains during the past few days have caused another 133,000 hectares of land to be flooded, bringing the total flooded area to 254,000 hectares.

Water level in Hongze Lake in the lower reaches of the Huaihe River rose 0.16 meter to 13.76 meters at 8:00 a.m. Saturday. It was 0.26 meter above the danger line.

About 67,000 people in Anhui were forced by the swollen Huaihe River to evacuate from their homes on Thursday.

Currently 182,000 people in Anhui are working to control flood in the Huaihe River. The provincial government has invested 54.9 million yuan in the flood-control work.

More than 1 million people have been evacuated in Henan, Anhui and Jiangsu provinces from the projected path of floodwaters from the Huaihe River, which is expected to see its worst flooding since 1954. There is no report of death from the Huaihe River flood.

The Huaihe River originates from Mount Taibai, Henan Province, and runs eastward between the Yellow River and the Yangtze River, cutting through Henan and east China's Anhui and Jiangsu provinces before entering the Yangtze River via the Hongze Lake.

Rains and ensuing floods, landslides and mud-rock flows wreaked havoc in China over the past week, killing 40 people in east China's Shandong Province, 59 in Yunnan, 42 in Chongqing and at least 11 in Xinjiang.