18 children in kindergarten attack
(Xinhua)
Updated: 2007-07-21 14:15
GUANGZHOU- Eighteen children and a woman teacher have been wounded in a kindergarten in South China's Guangdong Province after a mentally ill man attacked them with wrench, local police said Saturday.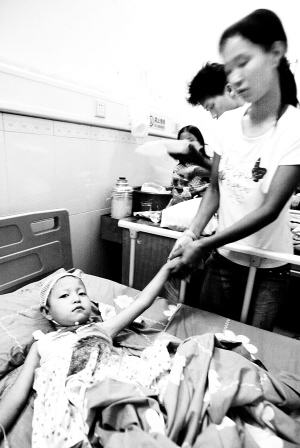 A child receives treatment at a hospital in Jun'an town, Foshan city, South China's Guangdong Province, July 20, 2007.[The Beijing News]


The man surnamed Ouyang entered the kindergarten in Jun'an town, Foshan city at about 4:30 p.m. Friday and attacked the victims' heads within a few minutes. He then fled on a motorbike after the teacher named Ouyang Liuxing fought back.

"I was frightened by the scene and went to stop him. He hit me in the head with the wrench, but I kicked him in the private parts," said the teacher.

Ouyang Liuxing said she ordered all the children to squat, which prevented more children from being hurt.

The oldest among the injured children was only seven years old, according to the teacher.
Local police said they nabbed the man in his 40s soon at his home, and sent him to hospital because he tried to kill himself by stabbing the belly.

Doctors with a local hospital said Ouyang Liuxing and 16 children suffered contusion in the head and were under clinic observation. The other two children have been sent to a downtown hospital, but their injuries were not critical.


Most Commented/Read Stories in 48 Hours