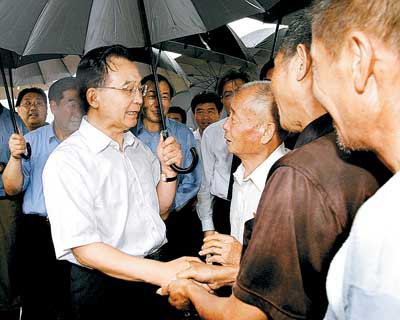 Chinese Premier Wen Jiabao visits flood-affected residents in Fuyang, East China's Anhui Province, July 13, 2007. [Xinhua]
Chinese Premier Wen Jiabao is in the focus of a hot topic among Chinese Internet users after a news photo of him visiting flood-affected regions was released online.
In the seemingly ordinary photo taken on July 13 in which Wen shakes hands with a local resident who lost his home in the flood, netizens discovered that the Premier is holding his own umbrella.
A web-user posted the photo of the umbrella-wielding Premier along with several other pictures in which official-looking figures had people holding umbrellas for them. One official was delivering a speech while a young girl held the umbrella for him.
The contrast between the set of pictures was so dramatic that the posting attracted hundreds of comments from web-users within hours. They were eager to express their happiness of seeing the Premier in plain clothes and decried the bureaucracy that happens at the local level, saying senior political figures are serving ordinary people.
As one of the top leaders in the world's most populous nation, Premier Wen is widely admired by the Chinese as he's concerned about ordinary citizens, especially the poor. People think highly of him because he isn't concerned about material things for himself.
In a similar case last year, online news viewers saw photos of the Premier visiting a villager's home during Chinese New Year's Eve while wearing an overcoat which was the same one he put on in a 1995 tour.
As the government calls on officials to act low-key and stick to practicality in work, Premier Wen has become a role model for the country's officials and civil service, which are large in number.
A netizen claims he noticed on television that the 65-year-old Premier was also wearing a pair of rubber-soled shoes that used to be popular in hard times while visiting the flood-stricken area.
"Wen holding his own umbrella reveals the essence and purpose of being an official," another netizen commented. "Through the photos, it's clear to see what a political leader, as a public servant, should do."
However, others feel the photos are in fact nothing special, showing people's longing for real doers and proves local officialdom has yet to reform.
"Only the disabled need help in holding an umbrella," a netizen said.