KARACHI, Pakistan - Suicide bombers hit a convoy of Chinese workers in southern Pakistan and a police academy in the north, killing 36 people and wounding 54 as violence swept farther across the country.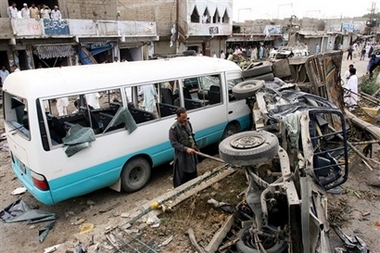 A Pakistani security official examines wreckage of a vehicle after a bomb explosion in Hub near Karachi, Pakistan, Thursday, July 19, 2007. Police said a bus carrying about 10 Chinese engineers and workers had just passed when the remote-controlled bomb exploded killing at least 26 people. [AP]
There was no immediate word on how many Chinese workers were killed or injured in the attack, the latest in a slew of assaults targeting overseas Chinese nationals.
The convoy was passing though the main bazaar in Hub, a town in Baluchistan province near the port city of Karachi, when a moving car blew up next to a police vehicle, officials said.
Hub Police Chief Ghulam Mohammed Thaib said 29 people were killed, including seven police. About 30 other people were wounded, some critically.
"It was laden with very heavy explosives but due to our spacing and our security measures, Allah has been very kind," said Maj. Gen. Saleem Nawaz, a commander of Pakistan's paramilitary Frontier Constabulary.
The police "sacrificed their lives and the Chinese friends were absolutely safe," Nawaz said on Dawn News television.
The Chinese citizens worked at a lead extraction plant in Dudhar in Baluchistan and were temporarily leaving the area for Karachi due to security concerns, police said.
Some officials suggested the bomb was remote-controlled. But Thaib and Nawaz, whose men also were guarding the minibus carrying some 10 Chinese technicians and engineers, said it was a suicide attack.
Television reports showed how the blast ripped off the front of several roadside shops. Several damaged cars and buses lay rammed into one another among a tangle of bricks and clothing.
In the northwest, a suicide car bomber detonated his explosives when guards prevented him from entering the parade ground of the police academy in Hangu, 45 miles southwest of Peshawar.
The bomber killed six bystanders and one policeman, and another 24 people were wounded, academy chief Attaullah Wazir said.
Suicide attacks, bombings and shootings blamed on Islamic extremists and a bloody army siege of radicals in Islamabad's Red Mosque have killed about 270 people in Pakistan so far this month, stirring doubts about the country's stability.

| | | |
| --- | --- | --- |
| 1 | 2 | |