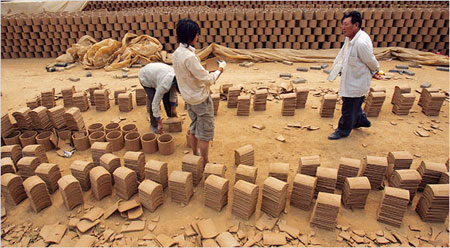 A parent looks for a his lost child at a brick kiln at Liuwu Village in Yuncheng, in China's Shanxi Province June 15, 2007. [AP]


China has punished dozens of officials for allowing slave-like exploitation of workers and children in brick kilns, but announced criminal investigations against only six.

Reports that hundreds of farmers, teenagers and some children had been forced or lured to work in kilns and mines in the northern province of Shanxi sparked nationwide outrage last month.

They endured prison-like confinement and brutal beatings, local media reported. TV news showed released workers with emaciated bodies and festering wounds, and China's leaders promised to punish those involved.

Shanxi authorities on Monday announced the results of their investigation. The focus was on low-ranking officials who received administrative punishments, and investigators said they had not found evidence of corruption or collusion.

Almost all of the 95 punished were from eight counties in the Shanxi cities of Linfen and Yuncheng. They were sacked, demoted, expelled from the Communist Party or merely received warnings, Xinhua news agency said.

The deputy party chief who also served as government head of Hongtong county, at the centre of the scandal, would be fired, said Yang Senlin, a top discipline official with the Communist Party's Shanxi province office.

Six Hongtong officials were being probed by judicial departments and faced possible criminal charges, Yang said.

"Other than the direct responsibility of the (owners), the 'black brick kilns' incident happened mainly because of lax supervision and dereliction of duty of grassroots party and government officials," Yang said.

Investigators had found no evidence of official corruption that many Chinese media reports alleged, Yang said.

"After about one month of serious investigation, we haven't found problems of this kind," he told a news conference in provincial capital Taiyuan.

Yang said the punishments were unusually harsh. But there was no high-ranking officials among those punished.

According to the Chinese laws and regulations, the county and township party organizations and governments are directly responsible for the management and administration of rural brick kilns and rural labor. So the county and township officials were directly accountable to such happenings, Yang said.

However, Yang added, the city Party committees and governments in the areas should also shoulder some responsibility, and the Linfen and Yuncheng Party committees and governments have been reprimanded by the provincial Party committee and government, and requested to make profound self-crtiticism.

Police have detained more than 130 people, mostly owners of the brickworks, which Chinese media said numbered in the hundreds, and thugs working for them, and more than 500 workers had been released, state media have said.

Dozens went on trial earlier this month, but no rulings have been announced.

Yang said several officials had been punished in connection with six child labourers freed from five brick kilns. Chinese media have said the number of children confined to the scorching kilns could have been as many as 1,000.