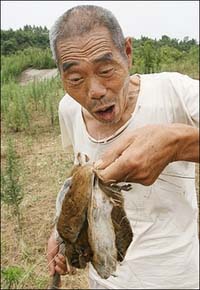 A Chinese farmer shows dead rats during an eradication program near the village of Bing Hu in Hunan Province, 13 July 2007.[AFP]


Rats are back on the menu in southern China, after traders there capitalised on an outbreak of the rodents in neighbouring Hunan province, according to Chinese press reports.

According to a report Saturday in the Information Times from Guangzhou, trucks full of mice were seen arriving late at night and sold to a wild animal market in the city district of Baiyun.

During the SARS epidemic, which began in southern China in 2003, authorities banned the sale of many wild animals including rats amid fear that the deadly disease could be contracted from contaminated meat.

Although the scientific community is not in agreement over whether certain animals can spread the disease, vendors in China are no longer allowed to sell wild animals.

Officials in Hunan -- where floods have sparked a plague of two billion rats after water submerged their holes -- denied the newspaper's undercover report.

One official quoted by the Beijing Times on Sunday dismissed the report, saying it was far too difficult to catch rats alive, while their relatively small size meant there was little meat on the bone.

But rats are regarded as a traditional delicacy in southern China, and some believe that their flesh is more nutritious than pork or chicken.

A rat was fetching for between 40 to 50 yuan (5.2 to 6.5 US dollars) and reports said they could be found in Guangdong's cities of Fanyu, Zhaoqing, Dongguan and Hanhai.

Earlier this year China's media also reported that civet cats were routinely finding their way back onto Guangdong dinner tables.