Premier Wen Jiabao visited villagers living in flood-stricken areas in Auhui Province on Friday and urged governments at all levels to do what they can to help the victims while committing more resources to fighting the floods.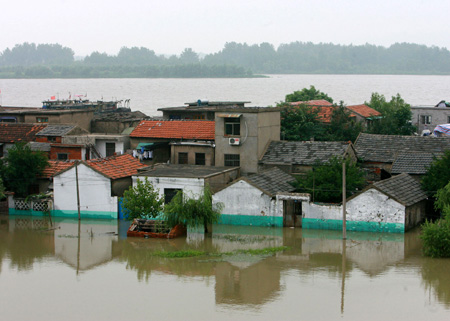 Residential houses are seen submerged in flood in Xuyu county, East China's Anhui Province, July 12, 2007. [Xinhua]


Sources with the State Food Control and Drought Relief Headquarters said the water level of the swollen Huaihe River is descending, though it is still dangerously high.
Continuous heavy rainfall has been battering a large part of southern China, with some parts witnessing floods on a scale that has not been seen in decades.
In an interview with Phoenix TV during an inspection of Wangjiaba Dam, a major dam on the Huaihe River, Wen said the governments should ensure the people affected by the flood have access to "food, clothes, clean water, adequate medical care and shelter".
"These are the most important things," he said.
Wen also said residents living in buffer zones, which are flooded to protect people downstream, will receive compensation at the "highest standard".
He also encouraged people to return to work as soon as possible once the water recedes.
The authorities will provide seeds to help farmers replant their fields and arrange for some to raise animals to offset their losses, he said.
Heavy deluge has caused floods, landslides and mud flows along the middle reaches of the Yangtze River.
In Chongqing Municipality, floods and landslides have claimed 43 lives, affecting nearly 10 million people since April, a local government official said on Friday.