China, reeling from a series of health scandals, on Friday told food and drug companies to put safety first.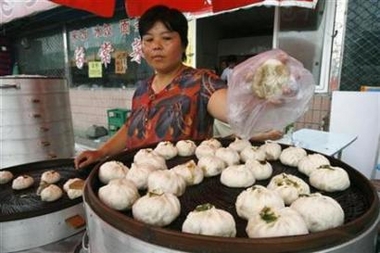 A vendor sells steaming buns at a street corner in Beijing July 12, 2007. [Reuters]
Revelations of tainted Chinese goods have grabbed global attention after patients in Panama died from toxic ingredients in medicine and pets died in the United States from substandard feed, while tainted Chinese toothpaste was found in Central America and elsewhere.
"Companies are the people with the first line of responsibility for food and drug safety, and must strengthen management, uphold the law in their operations, honestly follow regulations and guarantee safety," State Food and Drug Administration chief Shao Mingli said.
"Food and drugs are special products, and manufacturers and sellers cannot only go after economic gain," Shao told a work meeting, according to a statement on the watchdog's Web site (www.sda.gov.cn).
This week, domestic media reported on bogus rabies vaccines and dumplings found to have been stuffed with cardboard scraps.
At another meeting on Friday, however, an official said upbeat propaganda was needed to boost the sector.
"We must adhere to positive propaganda in the main," watchdog deputy chief Zhang Jingli said, according to the administration Web site.
He urged greater promotion of the "successes" of the official crackdown on tainted goods to help "create an atmosphere of opinion to protect our country's fine international image."
Zhang also indicated the administration wanted more restraint from domestic media reports exposing bad foods and drugs.
"We must correctly handle oversight from public opinion, and actively support and guide the media in enhancing oversight."
With the Beijing Olympics just over a year away, officials also said a specially developed food quality control system would be employed at 39 Olympic test events starting August 8.
Public fears about food safety grew in 2004, when at least 13 babies died of malnutrition in Anhui province, in eastern China, after they were fed fake milk powder with no nutritional value.
These incidents could provoke unrest, Shao said, echoing a warning given by a colleague last weekend.
"Food and drug safety is critical to the people's health and lives, and is critical for social stability and harmony," said Shao, whose predecessor, Zheng Xiaoyu, was executed on Tuesday for corruption.
"This issue can easily morph into a much larger one and directly affect the image of local governments and the state, affect social stability and harmony as well as socio-economic development," Shao added.