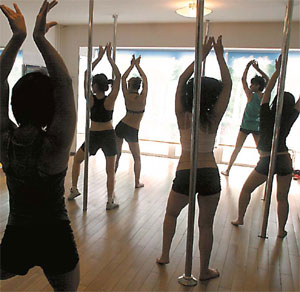 Shaking its blue image, pole dancing has become a fitness phenomenon as it spreads through Chinese cities. [Jiang Dong/China Daily]

In a converted high-rise apartment, a young Beijing woman is cheered by fellow students as she inverts her body against a steel pole to master the "Iguana", a difficult move performed by Daryl Hannah in the opening scenes of 2000's Dancing at the Blue Iguana, a film about six LA strippers.

At a special event in Shanghai, an energetic male-female duo of expatriate dancers performs under a glitter-strewn stage. On twin poles, they execute a seamless series of aerial tricks, spins and flips, drawing gasps from the hundreds-strong crowd.

These are new faces of pole dancing in China, a fitness phenomenon striving to shake its blue image as it spreads through the cities. This weekend, the country's first open pole dancing competition will be held, further boosting its local profile as hundreds of women - and some men - sign up for classes.

Luo Lan says she brought pole dancing to the Chinese mainstream in 2006, when she opened the Lolan Pole Dancing Club in Beijing. Just one year later, Luo has branches across the country and is hosting the competition in the capital on July 15.

The exotic blend of dance, gymnastics and acrobatics is now also taught in Shanghai, Nanchang, of Jiangxi Province, Suzhou, of Jiangsu Province, and Guangzhou, of Guangdong Province.

And while moral crusaders claim this is a form of corruption imported from the West, some overseas pioneers of pole fitness are turning to China's ancient tradition of acrobatics as they fight the stigma of association with the sex industry.

Pole dancing had been the domain of nightclub strippers since the 1970s, but emerged - with clothes on - as a popular form of exercise, performance art and competition sport. In 2003, it was trumpeted by US talk show queen Oprah Winfrey as a new celebrity workout, and schools have since opened across the United States, United Kingdom, Europe and Australasia in response to demand for classes with an artistic and athletic focus.

Devotees say it is a fun way to achieve total body conditioning in an encouraging, usually all-female environment. While other dance forms may focus on perfect technique, the emphasis is more on personal style and expression.

Modern pole dancing echoes the feats of strength and coordination featured in Chinese pole, a specialist act of the country's acrobatic troupes in which performers - usually male - climb and tumble between tall, coated poles. Acrobatic art in China dates back 2,000 years, and is respected both domestically and internationally.

Pole dancing's sensual aspect is part of its appeal for many students, who tell China Daily they like "feeling sexy" and enjoy the "girly atmosphere" of classes.

But the UK's Vertical Dance director KT Coates, who launched the world's first fitness industry-accredited course for pole instructors, says her style is, "completely de-sexed and acrobatic".



Luo Lan says she brought pole dancing to the Chinese mainstream in 2006, when she opened the Lolan Pole Dancing Club in Beijing.




Coates is planning a new instructional DVD featuring, "Chinese pole and pole dancing combined", incorporating the concentrated holds and strength of the former with the spinning grace and flow of the latter.

"I understand that Chinese pole has been documented thousands of years ago, whereas pole dancing has only been around for roughly 120 years," Coates tells China Daily.

"I believe that they have the same foundations, but with Chinese pole it is very strict and regimented, and with pole dancing it is far more open to the interpretation of the dancer. Having studied both, there are so many moves that are the same.

"I am beginning to use a lot more Chinese pole in my routines, as it is great for building strength, which is what pole fitness is all about," she says.

Beijing's Luo Lan says pole dancing here has, "nothing to do with sex". Rather, it is a "healthy and positive" way to exercise, while also improving students' self-image. Luo aims to "promote pole dancing in China" through this month's inaugural competition, themed "fitness and fashion", which is backed by the Asian Bodybuilding Federation. Entrants are encouraged to display their technical skill and "creative flair".

In Shanghai, Australian Jacqueline Davis is leading the city's new pole scene. The 24-year-old dancer launched an event at the I Love Shanghai bar, where she demonstrates moves and teaches interested patrons. She also leads a new class at the Soul Dancing studio.

With compatriot Chris Measday, Davis recently performed with Jazz du Funk International Dance Company. The reception was "awesome", and Davis says pole dancing's local popularity has "exploded" in the past month.

"Although pole dancing has been associated with stripping, in the current day, it is really taking on a life of its own around the world. There are competitions that are purely pole dancing, where you can't strip. If you strip, you lose," she says.

With increased exposure, pole dancing is evolving into a legitimate art, to some extent mirroring the historic development of other dance styles, including waltz and even ballet. Characterizing the progressive nature of performance art, these forms were maligned until social values of the time caught up.

"How can it be corrupting anyone? It is just a form of dance," Davis says.

"Like acrobats or gymnasts, we use the pole as a prop for flips, spins, climbs and holds. Its sensual side is also seen in salsa, tango, belly dancing."

The small percentage of men taking up the activity further challenges the perception that pole dancing merely serves the voyeuristic desires of men.

Chris Measday, 25, was a gymnast but switched to pole after breaking his back in several places, ending his high-level career in 2003.

"It gives me a fantastic workout without being too heavy on my joints. The pole is a lot of strength and core strength, and aerobic as well, without damaging muscles and bones," Measday says.

A departure from eroticism, his style is instead a display of muscular strength.

"We have these two different sides of what pole dancing can be, and it does show the acrobatic or gymnastic ability it takes to put on a good show," Measday says.

KT Coates concedes there is "still a big stigma attached to pole fitness" but says acceptance is growing.

"I did think that maybe pole dancing was going to become a fitness fad, but that was four years ago and it is getting stronger than ever. I believe that in 10 years time schools will be teaching this in PE (physical education) lessons," she says.