Beggars and illegal vendors will soon be cleared from subway stations and trains in Beijing, as management gears up to restore order and maintain a civilized environment for passengers.

It's not rare to encounter beggars while riding the subway in Beijing, most of whom elderly people and the disabled, and sometimes children in shabby clothes clutching the legs of passengers and asking them for money.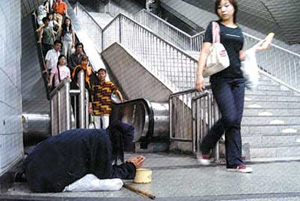 Passengers walk past a beggar in a Beijing subway station. (file)


The beggars' activities in subways "have disturbed the traffic flow of people, annoyed passengers and made the traveling experience unpleasant," a spokesperson for the Beijing Subway Operation Co. told The Beijing News.
The exercise is part of a special campaign conducted by the subway company and police who will send 13 contingents of inspectors starting on July 9 to oversee the four Beijing subway lines all day.
During the first stage of the campaign, inspectors are authorized to apprehend beggars, hawkers and buskers from trains or stations and take them to police stations or the law-enforcing bureau. The homeless and vagrants will be sent to homeless shelters. The second stage will be a period to reinforce the results and correct other uncivilized behaviors in subways.
The campaign will last until August 31.
The Beijing subway authorities said they had previously organized several of such campaigns. In May alone, more than 1,000 unlicensed vendors and beggars were cleared from the underground public transit system, with 39 detained for resisting police action and 53 taken to homeless shelters.